Birthday Cupcakes – Royal Princess Style
Birthday Cupcakes – Royal Princess Style are soft, moist cupcakes with fully customizable flavoring, colorful sprinkles and a smooth tasting, creamy frosting of your choice. Because what little princess doesn't like sparkles?
It's hard to believe that summer break is almost over. In just three short weeks, the daily routine of school, activities, clubs and sports start back up. Rushing out the door in the mornings and knocking out three sets of homework in the afternoon, along with studying, projects, and filling/cleaning/and refilling lunch boxes are about to fill our daily lives again.
Until then, we have been enjoying 'pajama day' around the house, relaxing to morning cartoons and not having a set routine that structures our day.  We have been enjoying breakfast and morning coffee on the deck.  Swimming in the afternoons, family board games, and playing beauty salon, our summer has been enjoyable, relaxing and full of zen.
In addition to enjoying all of the fun activities we come up with to fill our days, I have been able to spend a bit more time baking and creating. I have some fun, new cupcakes and desserts that I am currently testing out for the blog in the fall, which brings me to today's cupcakes.
I really wanted to play with a completely different design this time around for cupcakes. I am so use to making what I consider to be traditional cupcakes. Plain, vanilla cupcakes with a vanilla frosting. The piping is a standard, swirl design.
One of the really neat things about making cupcakes is their flavor and visual capabilities. These cupcakes are made the same way as the vanilla cupcakes, but this time, instead of using vanilla, they were prepared with almond flavoring.
The vanilla buttercream frosting was also turned into almond frosting by simply swapping out the vanilla extract for almond extract.
I had so much fun making these cupcakes. Usually, when making cupcakes, the OCD side of me likes clean, smooth edges. Instead of using a typical icing tip such as a Wilton 2D or 1M tip to achieve this look, I used the Wilton bb round tip.
The vision I had for these cupcakes was for the icing to have a more earthy, rustic look. This also seems to be the hot trend this year for wedding cakes and cupcakes. They have more of a textured look instead of a smooth, clean one.
I also knew that I wanted it to be loaded with sprinkles because what cupcake or slice of cake isn't more fun with sprinkles? To make the sprinkles mixture, I just pulled from baking supplies what I had used from previous cakes and cupcakes. When it came time to add the sprinkles to the cupcake, I simply used a slender spoon, and gently pressed the sprinkles onto the cupcake.
To avoid pretty, colorful sprinkles to falling into the crevices of the cupcake liner, you can gently wrap foil around the base of the cupcake before application. Once the sprinkles have been added, simply peel the foil back and that will help.
It's ok if they look messy and uneven. That is the look we are going for.
At the end, you will end up with a simple cupcake that is super easy to make. It is full of flavor and texture. The icing is trendy with its rustic, textured look. And the cupcake is topped off with some cute sprinkles that really add a pop of color to the overall, finished look.
These will be a hit at your next birthday party, work potluck or school event.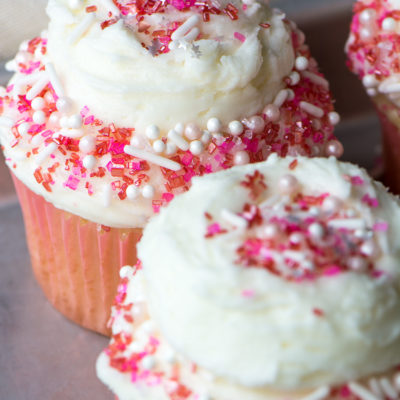 Birthday Cupcakes - Royal Princess Style
Ingredients:
Cupcakes
1 and 1/4 cup flour
1 and 1/4 teaspoon baking powder
1/2 teaspoon baking soda
1/2 teaspoon salt
2 large eggs
3/4 cup sugar
1 and 1/2 teaspoon vanilla extract
1/2 cup oil
1/2 cup buttermilk (or 1/2 cup milk and 1/2 teaspoon lemon juice. Let sit 5 min.)
Vanilla Buttercream Frosting
3 cups confectioner's sugar
1/2 stick butter, softened
1 and 1/2 teaspoons vanilla extract
2 tablespoons milk or heavy cream
Directions:
Preheat oven to 350 degrees. Prepare muffin pan with liners.
In a medium bowl, mix dry ingredients. Set aside.
Using an electric mixer and a medium sized bowl, beat eggs and sugar on medium speed until well blended.
Add vanilla, oil and buttermilk.
Mix in dry ingredients. Beat until combined.
Fill cupcake liners until 2/3 filled.
Bake for 12-15 minutes.
Let cool in pan for a few minutes before moving cupcakes over to cooling rack.
To make vanilla buttercream frosting, using a paddle attachment with a stand mixer, (this step can also be done with a hand-held mixer on medium speed) whip butter until light and airy. Usually about 3-5 minutes.
Add vanilla, milk (or heavy cream) and confectioner's sugar. Mix on medium speed for 3-5 minutes, or until well blended together.
Cut about 1 inch off the bottom of a piping bag, fill icing about 1/2 way into piping bag and decorate cupcakes as desired. (If you have piping tips, drop the tip into the icing bag before adding frosting. You can use whatever piping tip you wish.)
Add sprinkles or toppings if desired.
To store, place in an air tight container, or place cupcakes on a plate and cover with foil. If using a buttercream frosting, let the buttercream frosting set first before gently covering with foil.