Chocolate Chip Coconut Oat Cookies
Full of rich chocolate, chewy oats and toasted coconut, chocolate chip oat coconut cookies are the new 'it' cookies in our house.
Today was what I consider to be a perfect Saturday; laid back, relaxing and with the feeling of zen. We didn't have anywhere to go, and it was a nice change to our usual errand-filled, always-something-to-do, type weekend.
The kids relaxed and played nicely together.  They had 'pajama day' and remained in their pjs, which is always a fun thing to do in our house. Chris did some college work and watched pre-season football.
For me? I baked in the kitchen today. Ah….kitchen zen. Relaxing and peaceful. Therapeutic even.
I had baked earlier in the week and made several batches of chewy chocolate chip granola bars. I had promised to make Chris some chocolate chip oat coconut cookies earlier the same day I made the granola bars, but time got the best of me, and I was not able to get to them.
He has dropped hints a couple of times throughout the week about his 'monster' cookies. And each day, the disappointment train has continued to steam roll through.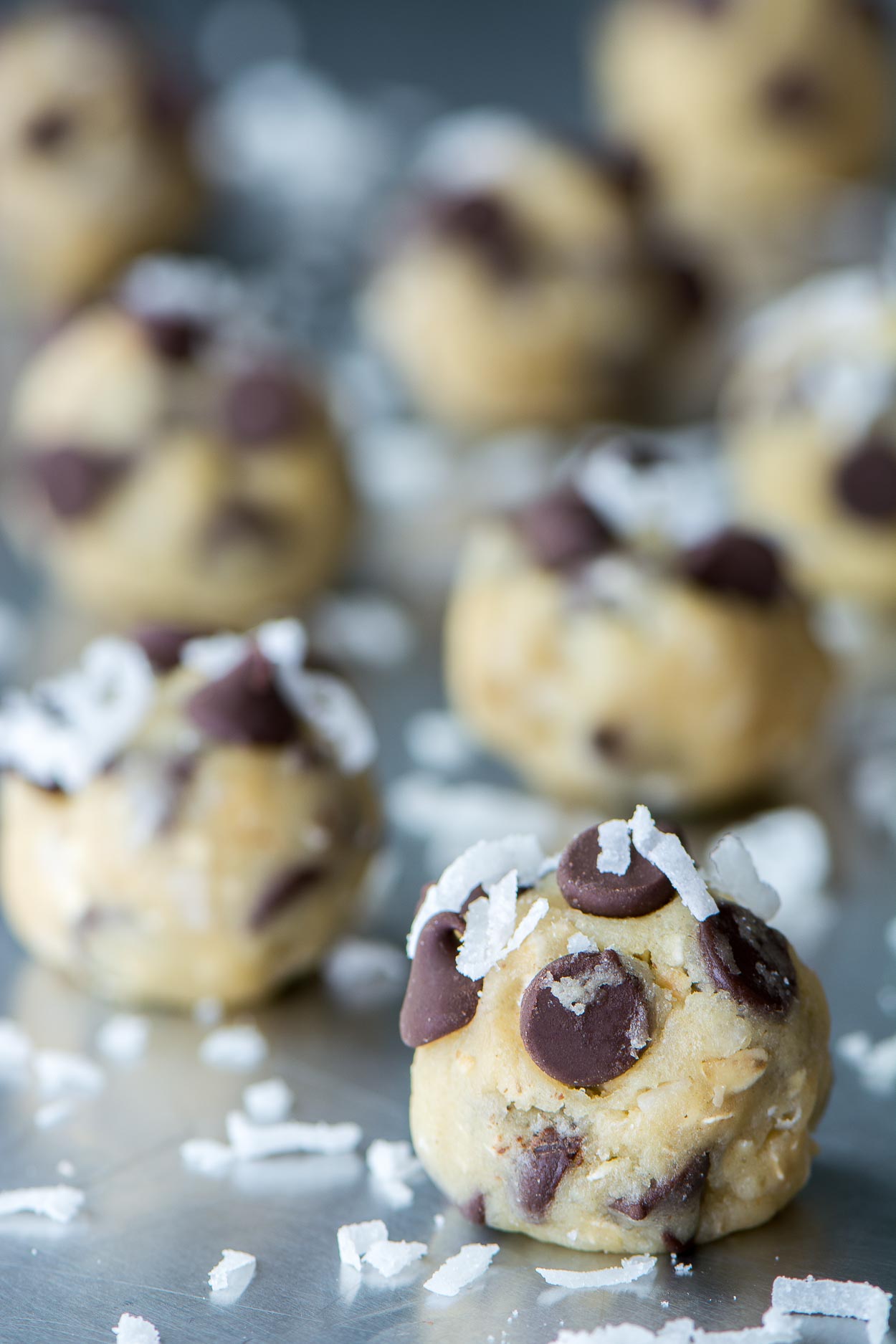 In our house, we call these monster cookies, but they are really, truly, by definition, chocolate chip oat coconut cookies.  The recipe I created for these were inspired by my favorite, traditional chocolate chip cookie recipe that I use whenever I make cookies for the family and an episode I recently watched of Pioneer Woman on the Food Network.
I love watching cooking shows. All cooking shows. Whether it is Cupcake Wars or Beat Bobby Flay, I really don't have a particular favorite.
I love them all.
As I was working on my laptop one Saturday morning on some freelance work, I had Pioneer Woman on the tv in the background. She was making a delicious batch of Monster Cookies. They were loaded with goodies such as M&M's, peanut butter chips, Rice Krispies, pecans and oats.
I mentioned to Chris that I wanted to make those and asked what he thought of that recipe. He told me they sounded good minus the M&M's, peanut butter chips, Rice Krispies and pecans.
Laughing, I pointed out that he basically wanted a chocolate chip cookie with oats.  So much for trying a cookie 'outside of the box'. He illuminated that he would try something like that but he wouldn't enjoy all of those elements in a cookie.
When asked what else could he possibly enjoy along with chocolate chips and oats, he responded with, "I don't know. Maybe coconut."
Laughing at the idea that these monster cookies where now merely a chocolate chip cookie with oats and coconut, I said, "Ok. We will have monster cookies minus everything that goes in them, and add oats and coconut."
Insert eye roll.
Instead of using Pioneer Woman's recipe, I simply used my classic chocolate chip cookie recipe and added oats and coconut. Chris wanted more oat flavor, with a hint of sweetened coconut. Therefore, when creating the recipe, I made sure to have the strongest flavor be chocolate, then oats with a hint of coconut.
As usual when I bake or cook, I have to cater to multiple flavor palettes, both big and small, in my house. Two of my children like chocolate chip cookies, one likes chocolate chip cookies minus the chocolate chips, and my husband likes them with oats and a little bit of coconut. My son is not big on sweets, but will eat desserts from time to time.
I am a universal cookie lover.
All cookies are welcomed and beautiful in their own little cookie way.
As I baked the first batch of these chocolate chip oat coconut cookies today, I noticed my husband lurking around the kitchen, waiting for me to tell him the cookies were ready.
Verbalizing (as the first batch was about to come out) that I had found the perfect cookies to use for this blog post, he said, "Look now. You aren't holding me back from my cookies!"
He was worried that he was going to have to wait until after the photo shoot to eat them.
And just like an excited little child, when I told him the cookies were ready to eat, he has to look at each individual cookie before he decides which ones will make it to his plate for immediate consumption.
I guess I can't blame him because I do the same thing. I always tell myself to grab the runt cookie of the batch for low carb purposes and just to have a taste. Yet every time, I go for the biggest, most luscious cookie that I am personally convinced is calling my name.
And every time I eat that cookie, it was like it was made just for me.
Because in a way, it was. Ha!
Chocolate Chip Oat Coconut Cookies
Ingredients:
2 and 1/2 cups all purpose flour
1 teaspoon baking soda
1 teaspoon baking powder
1 teaspoon salt
1 cup (2 sticks) butter, softened
3/4 cup sugar
3/4 cup brown sugar
1 and 1/4 teaspoon vanilla extract
2 large eggs
2 cups chocolate chips
1/2 cup dry, sweetened coconut
3/4 cups instant oats
Directions:
Preheat oven to 350 degrees. Line cookie sheet with parchment paper. Set to side.
In medium sized mixing bowl, mix flour, baking soda, baking powder and salt. Set to side.
In a large mixing bowl, beat butter, brown sugar and sugar on medium speed until well blended. Add vanilla.
Add eggs. Mix on medium speed until blended. Be careful not to over mix.
On low speed, add dry mix slowly.
Add chocolate chips, coconut and oats.
Mix well with spoon or by hand.
Refrigerate cookie mixture for 30 minutes.
Using a small ice cream scoop, scoop cookie mixture into small, equal sized balls onto lined cookie sheet. Space 1 and a 1/2 inches apart.
Optional (sprinkle coconut and chocolate
Bake at 350 degrees for 11-13 minutes or until golden brown on edges.
Let cookies sit for 5 minutes before transferring to cookie rack.
Let cookies cool completely before placing in air tight container. Cookies will remain fresh for up to 7 days.