Ultimate Death by Chocolate Cupcakes
Death by Chocolate Cupcakes are a rich, moist chocolate cupcake with a gooey chocolate ganache filling, topped with chocolate frosting, chocolate sprinkles, a creamy ganache drizzle and adorned with chocolate accents.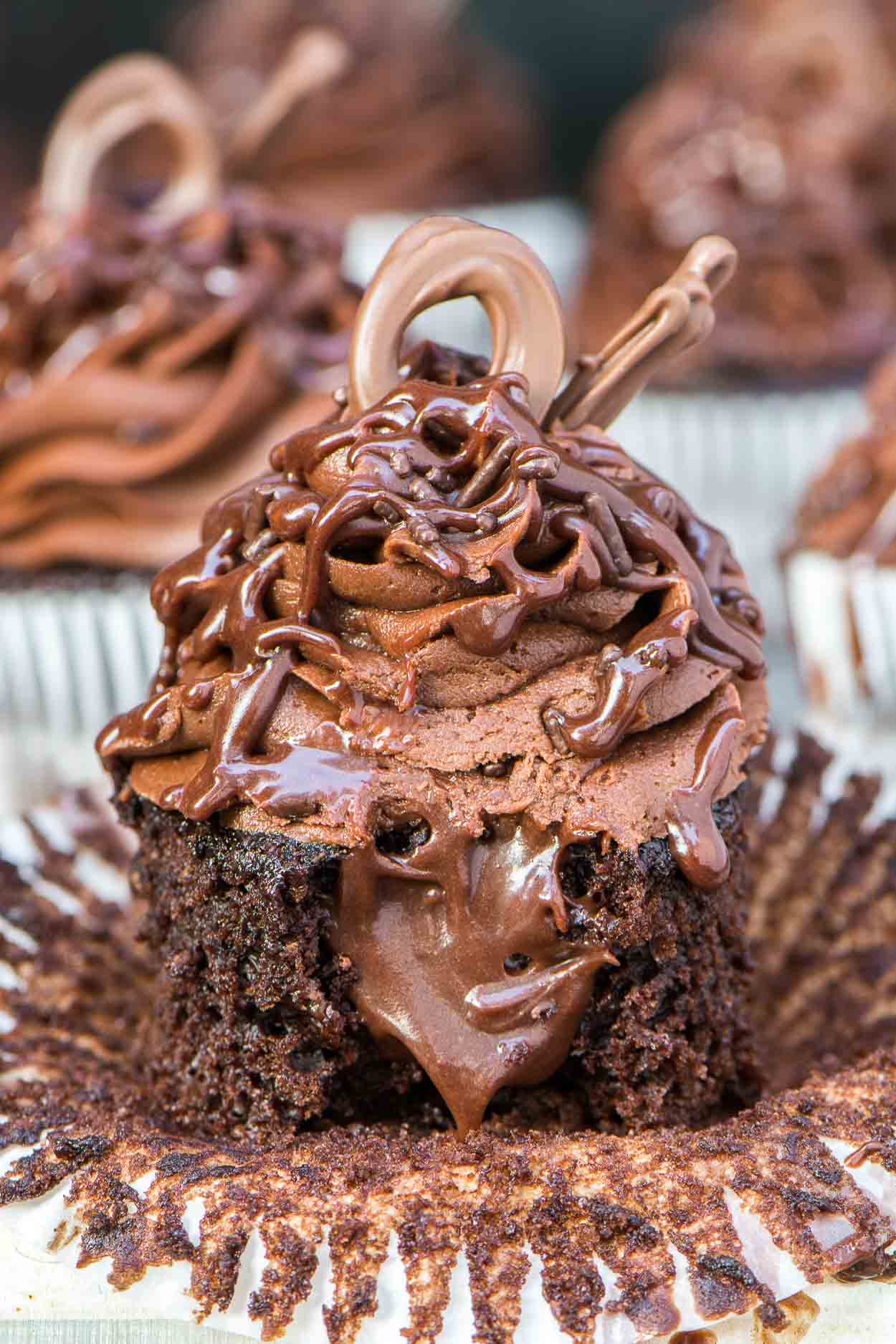 I have to say, these were so much fun to make. However, with these death by chocolate cupcakes, I was worried if all of the chocolate elements would possibly be too much chocolate.
Then, I laughed.
Because is there such a thing as too much chocolate?
As simple as it sounds, I am learning more and more as I go that everything doesn't have to be 'by the book'. You can get as creative as you want with recipes and play with different combinations to see what works and what doesn't when it comes to recipe development.
Regular chocolate cupcakes are perfect on their own, but how fun would it be to have a chocolate cupcake with layers upon layers of chocolatey goodness?
With that said, I began perusing through my baking supplies to see what fun creations I could pull together,  I gathered the essentials (flour, sugar, salt, baking powder, cocoa and vanilla) and set them out along with a mixing bowl, handheld mixer, measuring cups and measuring spoons. I pulled some chocolate sprinkles, chocolate curls, chocolate melts, and cocoa out and set them to the side.
Once the recipe development stage began, these death by chocolate cupcakes quickly became a chocolate lover's dream.
That is because……
If you like chocolate on top of chocolate with a sprinkle of chocolate, mixed with more chocolate that's infused with chocolate, you have come to the right place.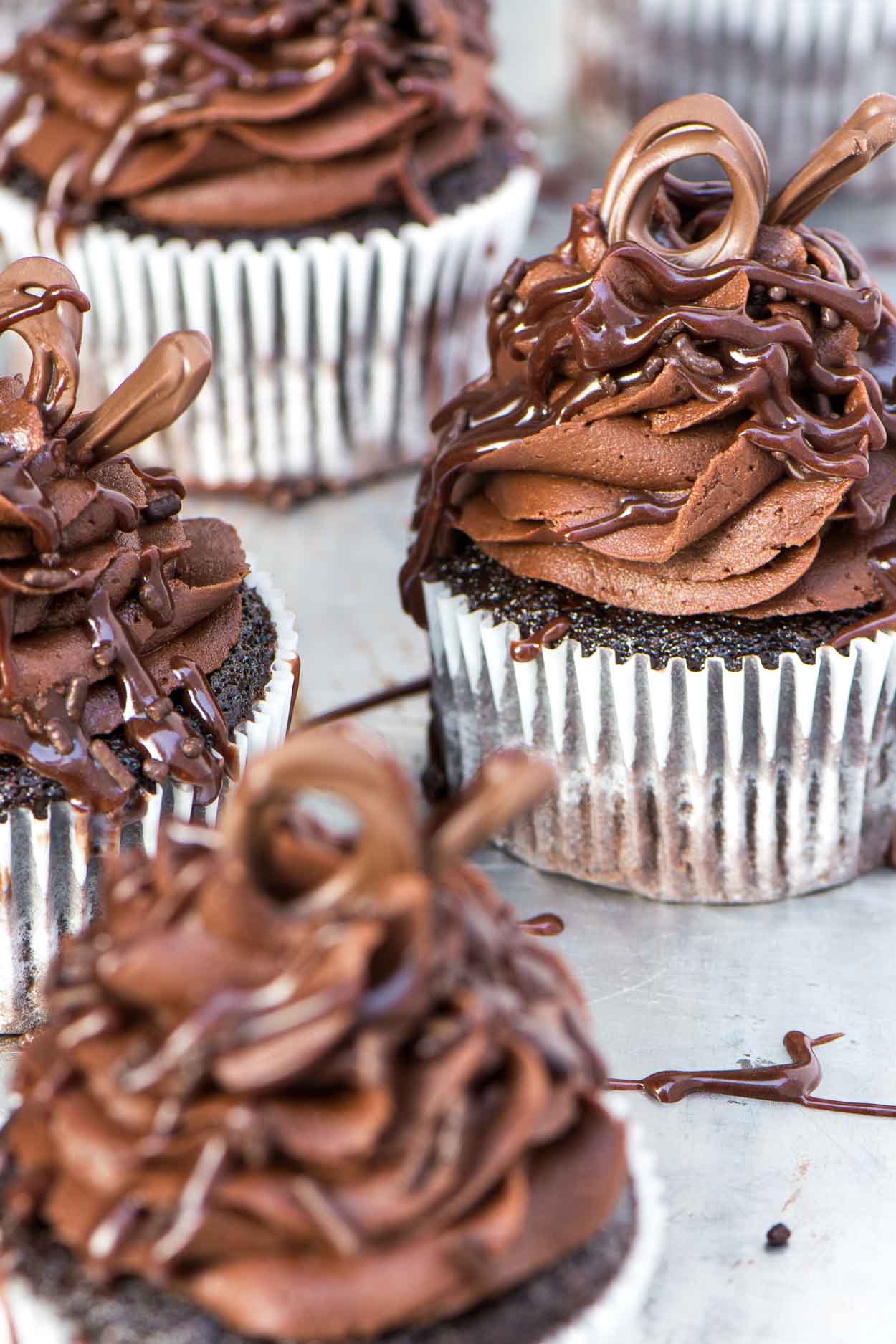 I set the oven to 350 degrees and prepared the cupcake base. It is a rich, moist chocolate cupcake that uses oil instead of butter. I completely understand if you feel like cupcakes should always be made with butter instead of oil.
I used to feel the same way.
But what I found was that cupcakes made with butter tend to have a more dense cupcake base. Cupcakes made with oil such as canola or vegetable oil, result with a lighter, soft and more moist cupcake base.
Once the cupcake base was finished, I created the chocolate ganache filling by heating heavy cream over a medium heat. As soon as the cream started to boil, I added the chocolate chips. You can also use baker's chocolate, and it can be semi-sweet or unsweetened chocolate. I added one tablespoons of vanilla extract to enhance the ganache flavor and also two tablespoons of corn syrup to make the ganache glossy.  If you don't have any corn syrup on hand, this step is not necessary to make chocolate ganache.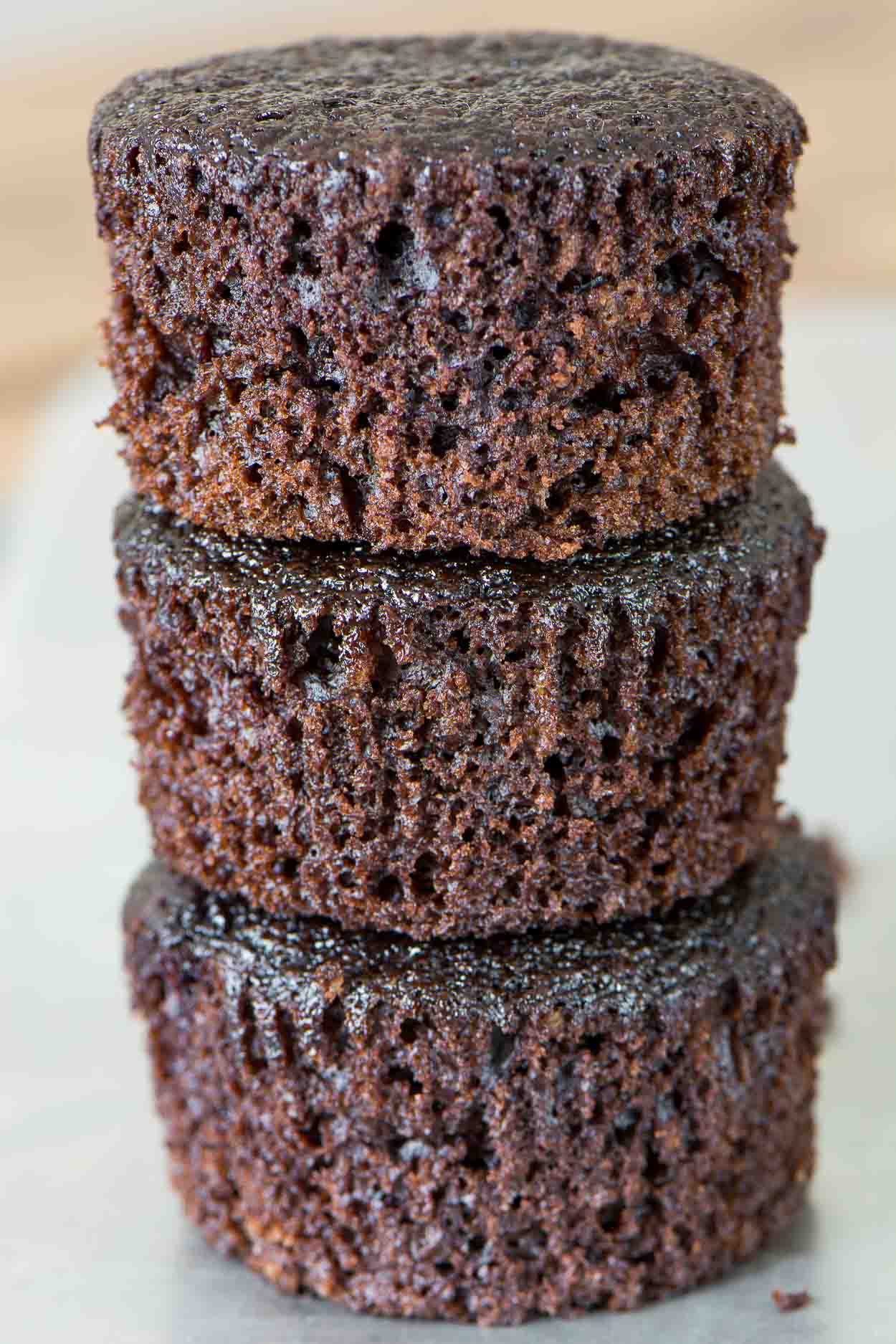 After the chocolate ganache is mixed well, sit to the side for about 15 minutes. The ganache will start to thicken.
While the ganache sets, I cored the middle of the cupcake with the back side of an icing tip. I small kitchen knife or apple corer can also do the trick. Because we don't want to waste any chocolate, like ever, save the cored cupcake remnants for chocolate cake pops. If you don't have time to make them now, place them in a small freezer bag and place in the freezer for another time.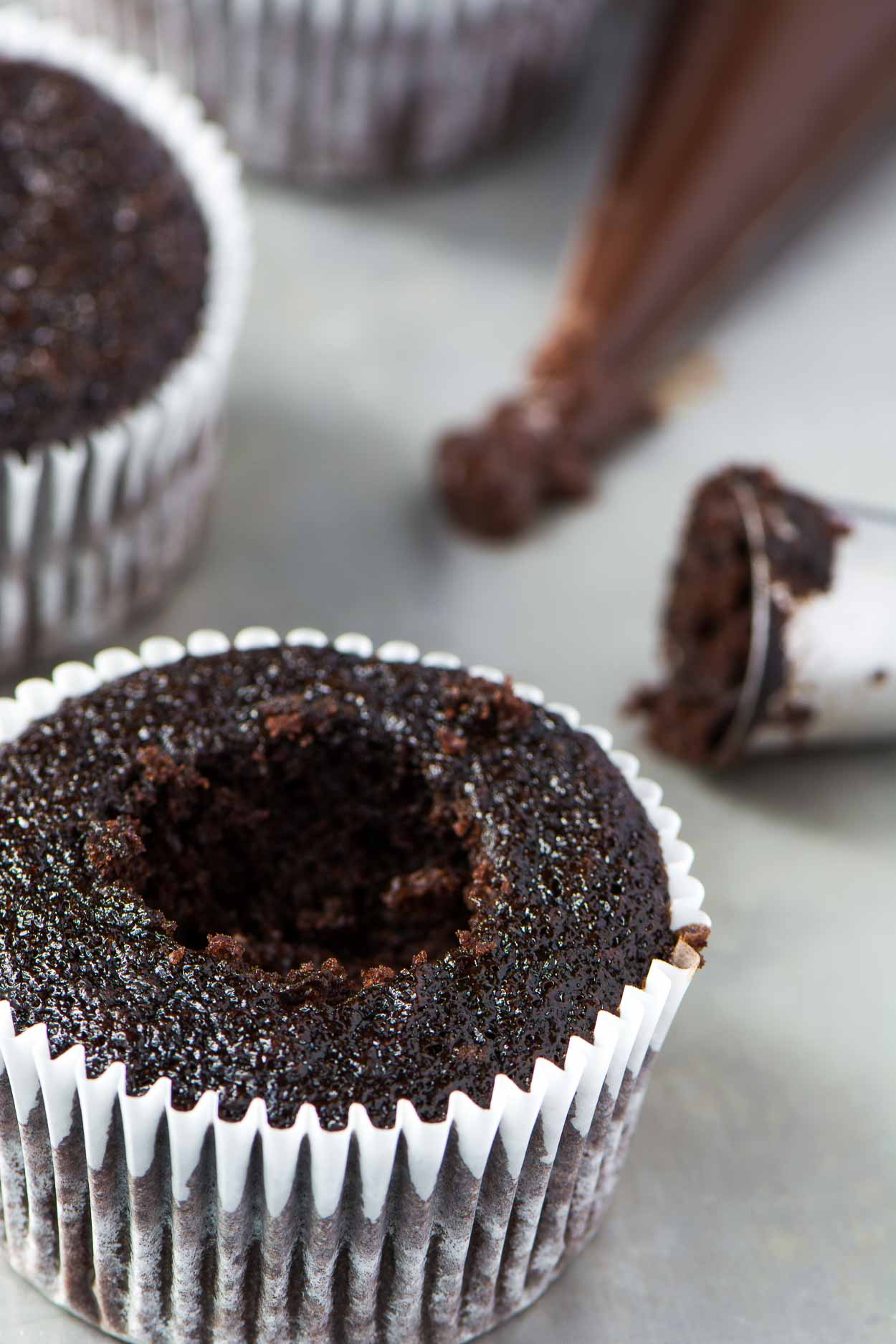 After filling a piping bag with the chocolate ganache filling, I cut off the end of the bag with a pair of scissors. There is no need to use a special icing/piping tip for this.
Fill the center of the cupcake up to the top with the gooey, chocolate ganache filling.
This is probably a good time to test of the ganache filling by dipping your finger right into one of those cupcakes. All of that creamy, gooey chocolate filling nestled inside of a moist, chocolate cupcake looks so inviting, the little child inside of us really wants to just stop what we are doing and have a taste test.
It's ok. I totally did it, too.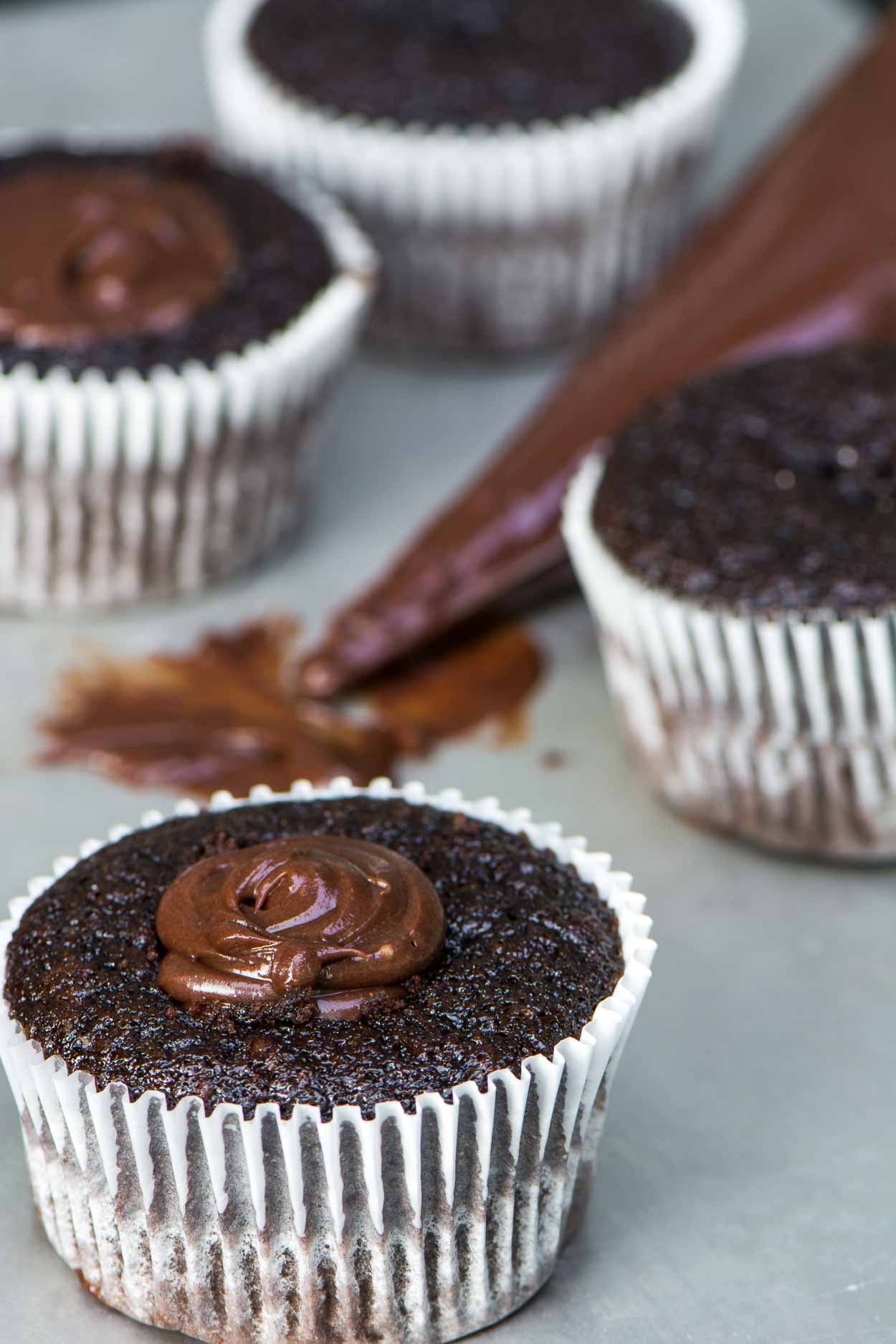 After the cupcakes are filled with chocolate ganache, I prepared the chocolate buttercream frosting. Using a Wilton 2D star open star tip and piping bag, I frosted each of the cupcakes. They were topped off with chocolate sprinkles. When I realized I had plenty of chocolate ganache left over, I decided to drizzle more ganache over the cupcakes.
Because, well, why not?
At this point, the ganache started to thicken up more than I wanted it to for a nice, drizzle affect. I microwaved the ganache for about 5 seconds, and it was a nice, thin consistency that was perfect for drizzling cupcakes with chocolate goodness.
Initially, I was going to sprinkle some store-bought chocolate curls on the cupcake but I didn't like how they looked aesthetically, so I opted out of that part of the process.
These are perfect to serve and devour at this point, but I wanted to top them off with just a little bit more chocolate.
I know. I know.
Does it really need any more chocolate?
I asked myself the same question.
And the answer is yes.
Yes, it does.
Using chocolate candy melt wafers, I melted them with a little bit of Crisco and piped various abstract designs onto parchment paper. After they dried, I picked a couple of ones that I liked and topped the cupcake with it.
The result is a chocolate cupcake with a gooey chocolate ganache filling, topped with chocolate frosting, chocolate sprinkles, a creamy ganache drizzle and adorned with chocolate accents.
I called my taste testers down from playing upstairs. And all gathered in the kitchen pretty quickly.
They ran, actually.
Everyone had their own death by chocolate cupcake, and I waited for initial responses.
Too much chocolate? Too rich? What would they think?
My 6 year old, Meadow, gave me a little thumbs' up and said they were yummy. My 13 year old, Willow, wouldn't provide actual words. She simply nodded and provided a knowingly approval look with a slow blink of the eyes and just kept eating.
And my vanilla-only, 9 year old cupcake lover, Sienna?
She said she didn't think she would like Death by Chocolate cupcakes because they were not vanilla. She loved them and said they were the best chocolate cupcake she has ever had.
Two dozen death by chocolate cupcakes lasted just 3 days in our home.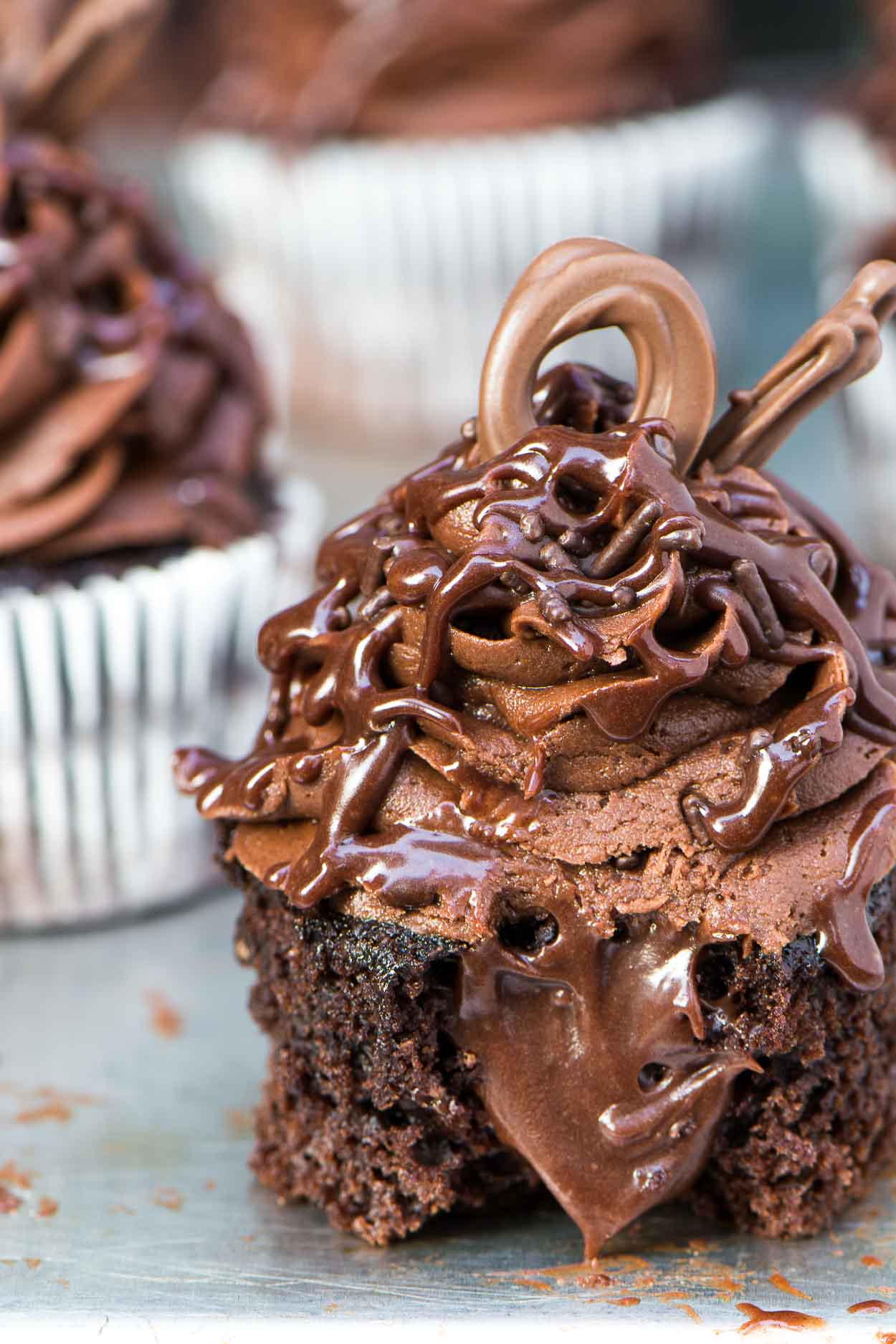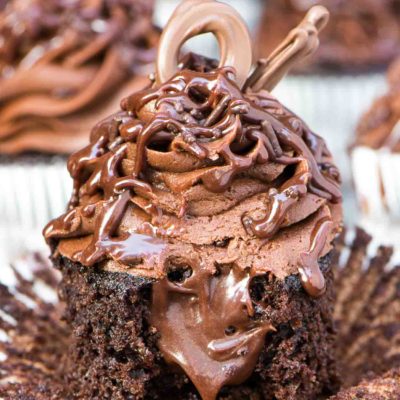 The Ultimate Death By Chocolate Cupcakes
Ingredients:
Chocolate Cupcake Base
1 and 3/4 cups all purpose flour
1 and 2/3 cup sugar
1 and 1/4 teaspoon baking soda
1 teaspoon salt
2 large eggs
3/4 cups canola or vegetable oil
2/3 cups cocoa
1 and 1/4 cup water
1 and 1/2 teaspoon vanilla extract
Chocolate Ganache
1 and 1/3 cups semi-sweet chocolate chips ( bittersweet works as well)
1 cup heavy cream
2 tablespoons corn syrup (optional)
Chocolate Buttercream Frosting
1 stick salted butter
3-3 and 1/2 cups confectioner's sugar
1/3 cup cocoa powder
6 tablespoons milk (or heavy cream)
1 and 1/2 teaspoon vanilla extract
Directions:
Preheat oven to 350°F. Line cupcake pan with liners.
In a large mixing bowl, add eggs, oil, cocoa, water and vanilla extract. Combine well.
In a separate bowl, add flour, sugar, baking soda and salt. Combine well.
Add flour mixture to large mixing bowl of wet ingredients. Using a hand-held mixer, beat at medium speed until well combined.
Fill cupcake liners a little over 1/2 way. (If using a large ice cream scooper, fill each liner with one full scoop.)
Bake for 12-15 minutes or until a toothpick comes clean (a few crumbs is ok) when checking the middle of a cupcake.
Remove the cupcakes from oven and allow to cool on a cooling rack until close to room temperature (5-10 minutes.)
While cupcakes cool, prepare ganache filling by heating heavy cream on stove top at medium heat. Once the heavy cream starts to bubble, remove from heat and add chocolate chips.
Mix well until thoroughly combined.
Optional Step – Add corn syrup (for shine) and vanilla extract (for added flavor).
Using a butter knife, core out the middle of each cupcake. Fill cupcake cavity with ganache filling.
To frost cupcakes, beat butter on medium speed for 2-3 minutes until light and whipped. Add confectioner's sugar, vanilla and heavy cream/milk.
Using a Wilton 2d Tip and a clear piping bag, frost cupcakes.
Use left over ganache filling to drizzle the top of chocolate cupcakes.
Add chocolate sprinkles and serve.
Optional Step – Cupcake Toppers. Use 1/3 cup of chocolate candy melts with 1/4 teaspoon coconut oil or Crisco and microwave in a small bowl for 30 seconds. Stir together and reheat for additional 20 seconds if necessary, until completely melted. Using a piping bag or small sandwich bag, pour candy melt mixture into bag. Cut a small tip off the edge of the bag and make any design you wish on parchment paper. Once the designs cool, peel off and decorate the top of cupcake with it. Be careful as the decorations will be fragile. Make extra toppers due to their fragile nature.