Fully Loaded Breakfast Casserole
A fully customizable breakfast casserole loaded with your favorite vegetables, meats and cheeses. Breakfast (or dinner) is served!
When I have time for breakfast, I usually make egg whites with turkey sausage or crumbled bacon. If I don't have time to make eggs and wash dishes afterwards, I will eat a couple of hard boiled eggs and a couple pieces of bacon. But you can only eat eggs the same way for so long before they get dull and boring.
And when that happens, I would rather skip breakfast than to eat… another… egg.
To switch things up, we like to make an egg breakfast casserole. It's also a great way to get some of those healthy vegetables in. Especially for those who are not a huge vegetable lover.
Like myself.
I have to make a conscious, daily effort to get vegetables in. A fully loaded breakfast casserole is definitely a meal I can accomplish that goal with.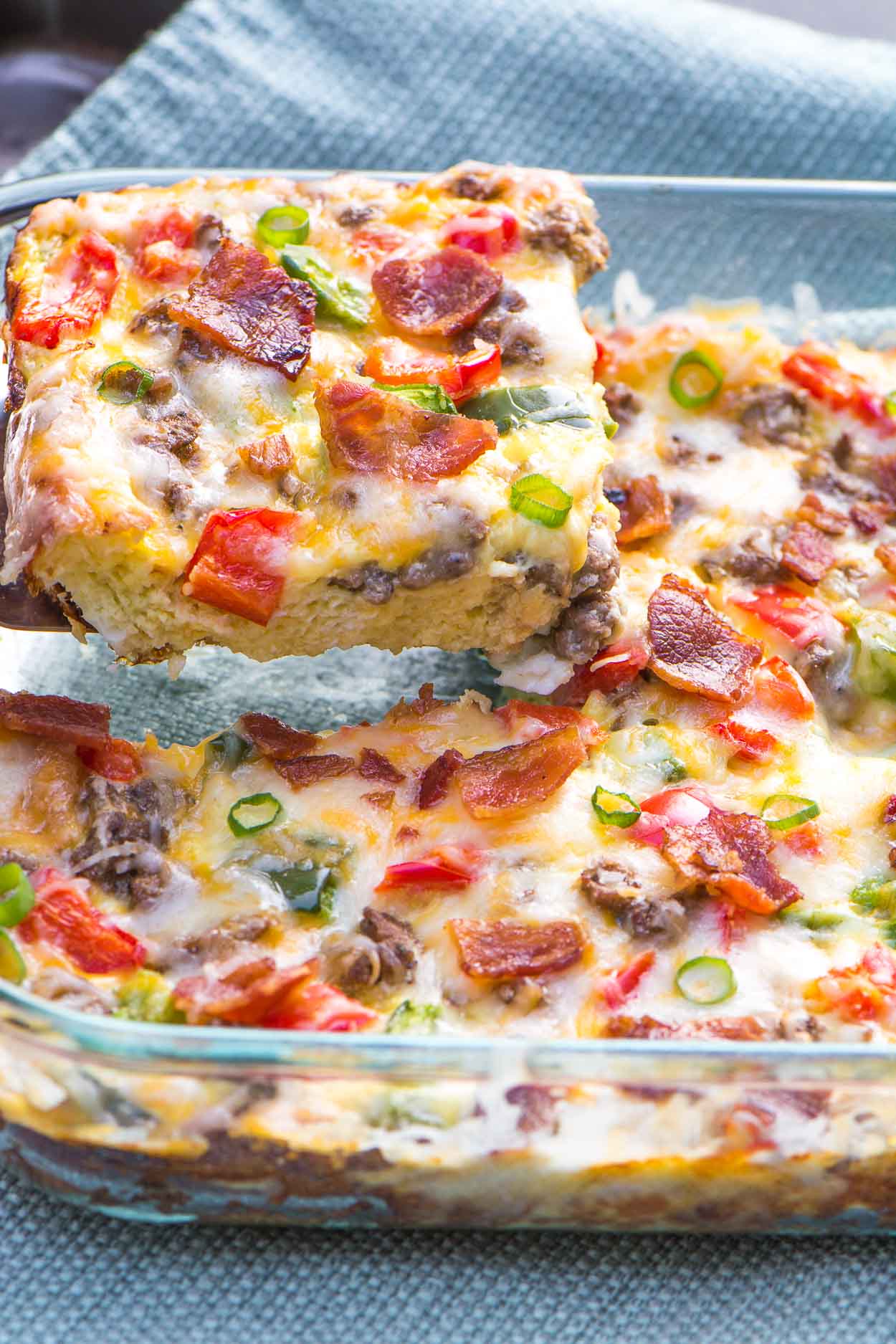 Another reason I love making a breakfast casserole is because I can eat off of it for a few days. This saves me time in the hustle of the mornings when I am trying to rush out the door. I heat a slice of the breakfast casserole in the microwave for one and a half minutes, sprinkle some crushed red pepper flakes on it, and a healthy, low carb, protein-filled breakfast is served.
No dishes to wash, and I gave myself a healthy start to a new day.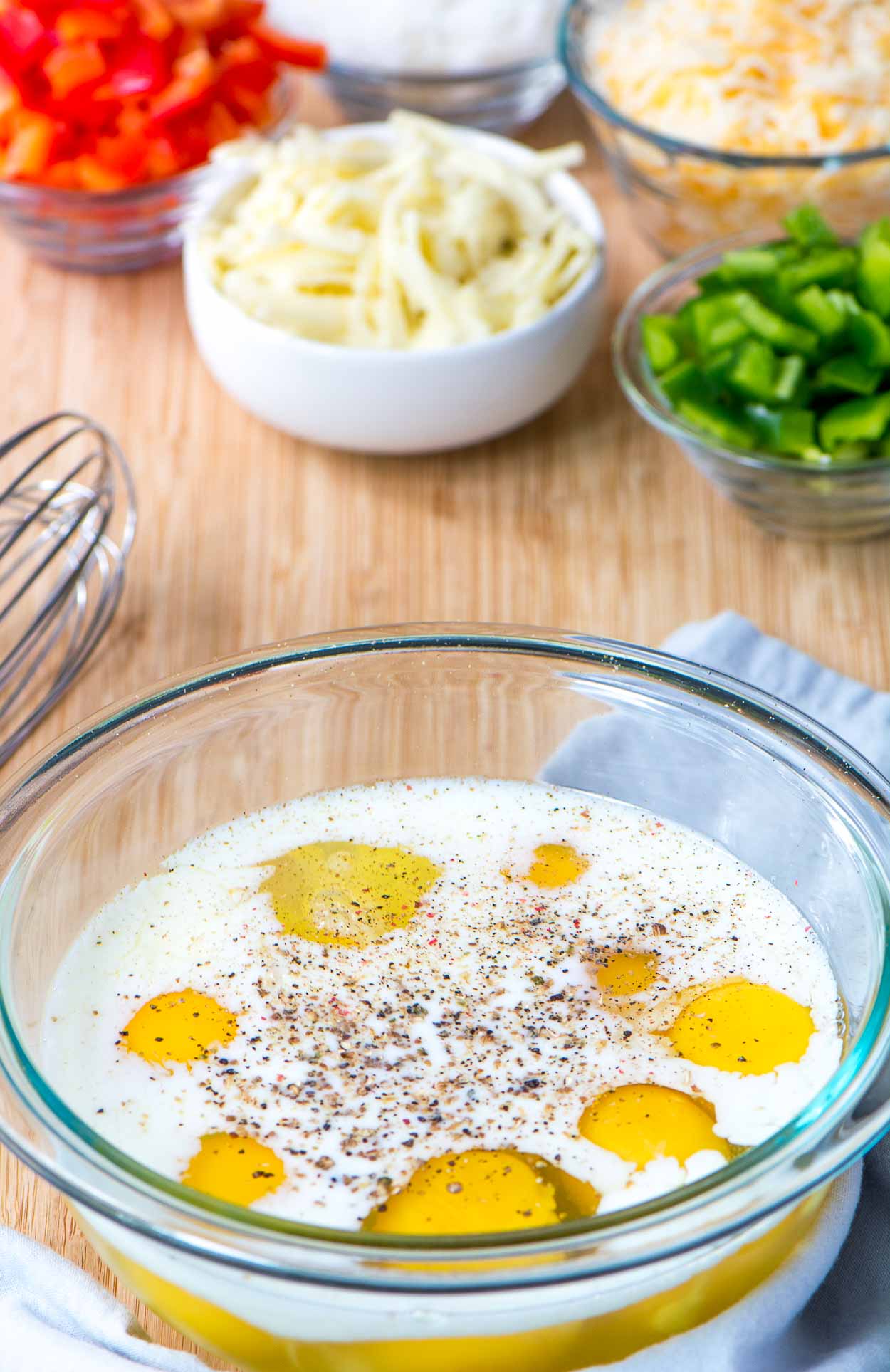 Did you know we make 'his' and 'her' breakfast casseroles?
It's true. We do.
We totally do.
Chris and I have different flavor palettes when it comes to certain foods, and a breakfast casserole is no different.
He likes to add hash browns or tator tots to his. I do not. I like adding onions to mine, and Chris will not eat anything with onions in it.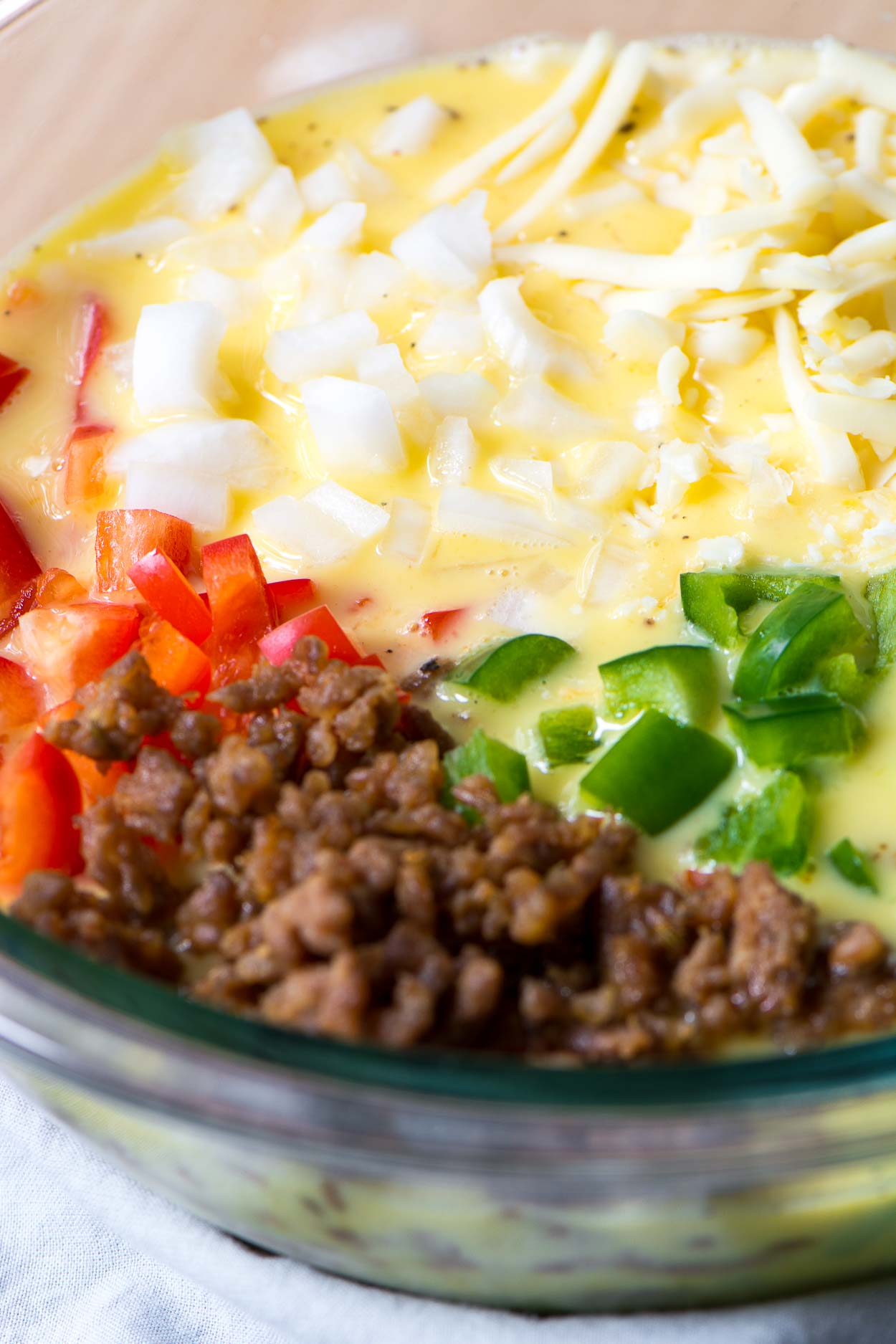 So, when we make a casserole for breakfast or dinner, we set up in the kitchen by pulling out two small, glass casserole dishes and spray them with cooking spray.
From there, we start prepping common ingredients by dicing up green and red peppers, turkey sausage, bacon and shredding fresh cheeses like Cheddar and Pepper Jack.
We branch off from there to work on our individualized ingredients.  Chris starts prepping hash browns on the stove top, and I set the base to my casserole by breaking up 2-3 slices of bread into little pieces and I lay them flat onto the bottom of the casserole dish.
Once we have the ingredients prepped, we crack 8-10 eggs each into a large bowl (one bowl for him and a separate bowl for me) and whisk them together with about a 3/4 cup of milk.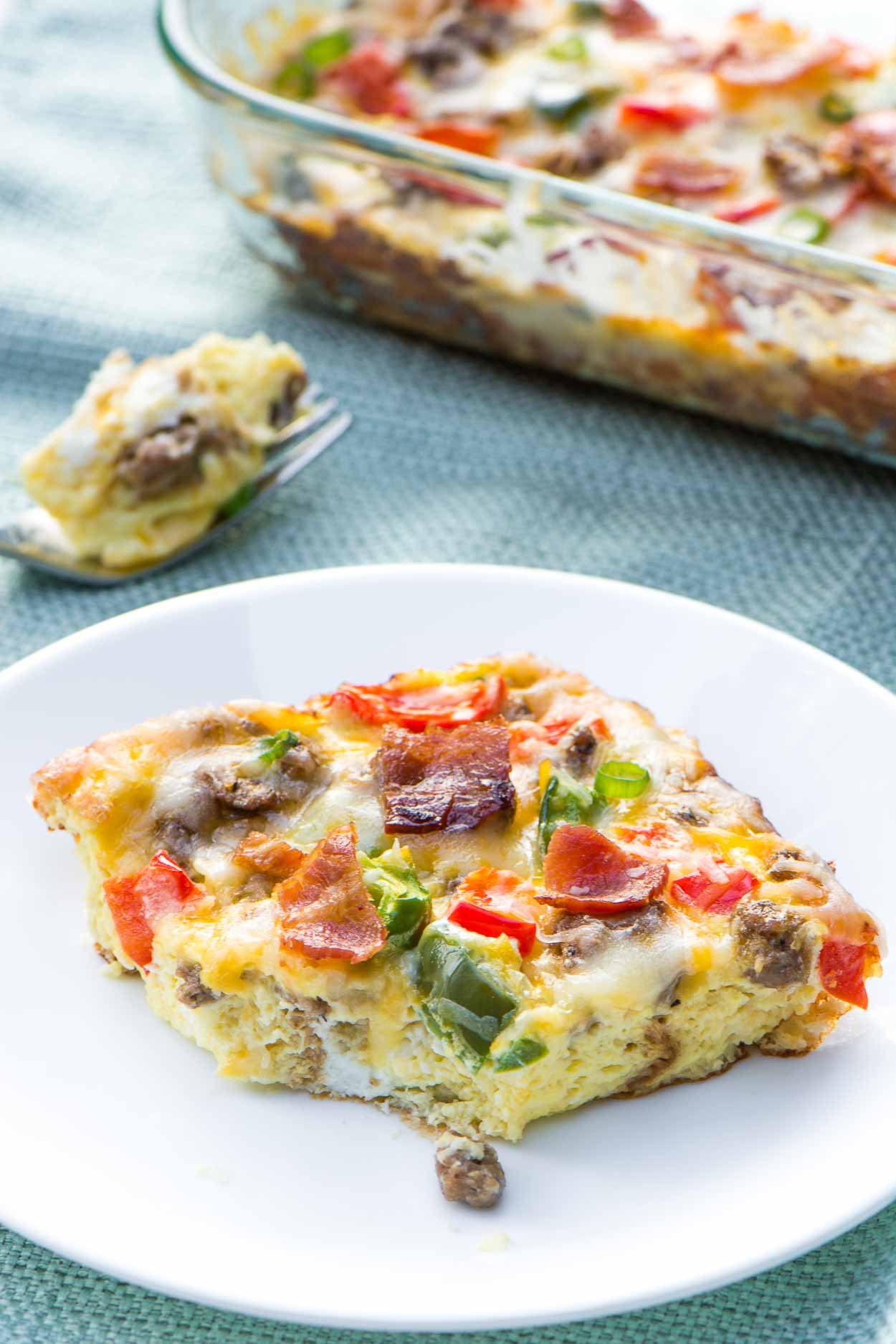 We pour the egg mixture into the casserole dish and add our favorite toppings before placing the casserole in the oven to bake at 375 degrees for 25-35 minutes, or until thoroughly cooked in the middle.
Here is the recipe I use when making an egg breakfast casserole. Feel free to swap out and add any ingredients you prefer. The possibilities are endless.
What ingredients do you like to add to your breakfast casserole?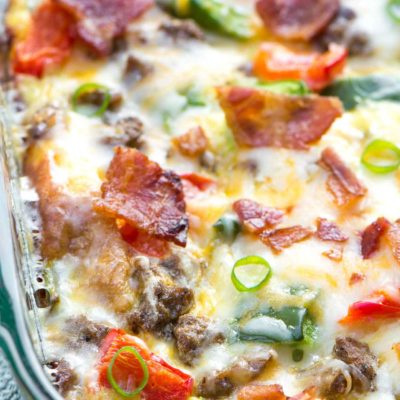 Fully Loaded Breakfast Casserole
Ingredients:
2-3 slices of bread (white, wheat, sourdough)
10 large eggs
3/4 cup milk
1/2 cup pre-cooked turkey sausage crumbles
3/4 cup diced green and red peppers
3/4 cup freshly grated cheese (any variety)
1/2 cup pre-cooked bacon, crumbled
salt and pepper for taste
additional meats, vegetables or cheeses optional
Directions:
Preheat oven to 375 degrees. Using a 9 x 13 casserole dish, spray bottom and sides with cooking spray.
Break 2-3 pieces of sandwich bread into small, two inch pieces. Place bread pieces at bottom of pan.
In a large mixing bowl, whisk eggs and milk together.
Add salt and pepper for seasoning if desired.
Pour egg mixture gently on top of bread pieces in casserole dish.
Add green and red peppers, sausage, bacon, and shredded cheeses evenly across the top of the egg mixture.
Bake at 375 degrees for 25-35 minutes, or until thoroughly cooked in the middle.
Once cooled, can be stored in refrigerator for up to two days in glass/plastic container or foil.