Perfect 5 Minutes Fajitas Seasoning
Spice up your next dish with this perfect 5 minutes fajitas seasoning.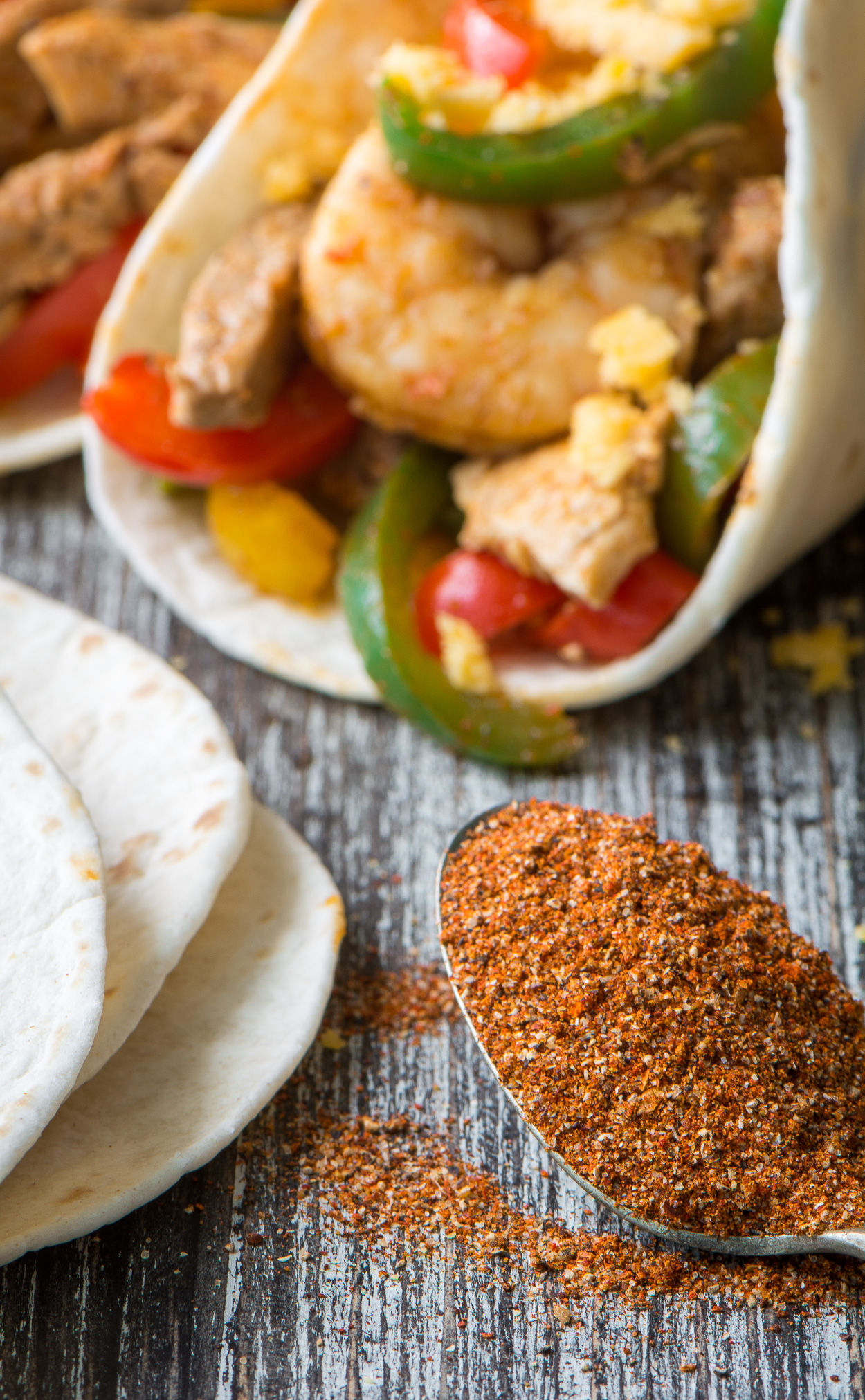 Sautéed peppers and onions create their own wonderful aroma and flavor combination when incorporated together. Adding chargrilled chicken, tender steak and succulent shrimp to the mix is even better. But what really makes fajitas elevate and 'pop' with flavor is this simple, 5 minute fajitas seasoning I use to pull all of those delicious, savory flavors together for a one-dish dinner that all are sure to enjoy.
Fajitas are one of my new favorite dishes to make. Chicken, shrimp and steak fajitas are my absolute favorite. We don't eat shrimp often, so when we do prepare it in a tasty meal, I feel like it's a special occasion. I mean, you can only eat so much chicken, right?
I love that I can easily turn this into a low-carb meal by simply omitting the tortilla. This is a tough one though, because I am a total foodie and I like carbs. Like, a lot. It's second nature for me to use tortillas when making fajitas. (Flour tortillas made from scratch are even better.)
I lay a medium-sized flour tortilla on a plate and add freshly sautéed peppers and onions in the middle of the tortilla. Pile the chicken, steak and shrimp mixture on top of the bed of veggies. Add crisp lettuce, juicy red tomatoes and fresh, shredded cheese. I'm not a sour cream or guacamole person, but if you are, go ahead and add that, too. Drizzle on your favorite salsa or hot sauce, wrap the tortilla up and enjoy.
I'm getting hungry just reading this.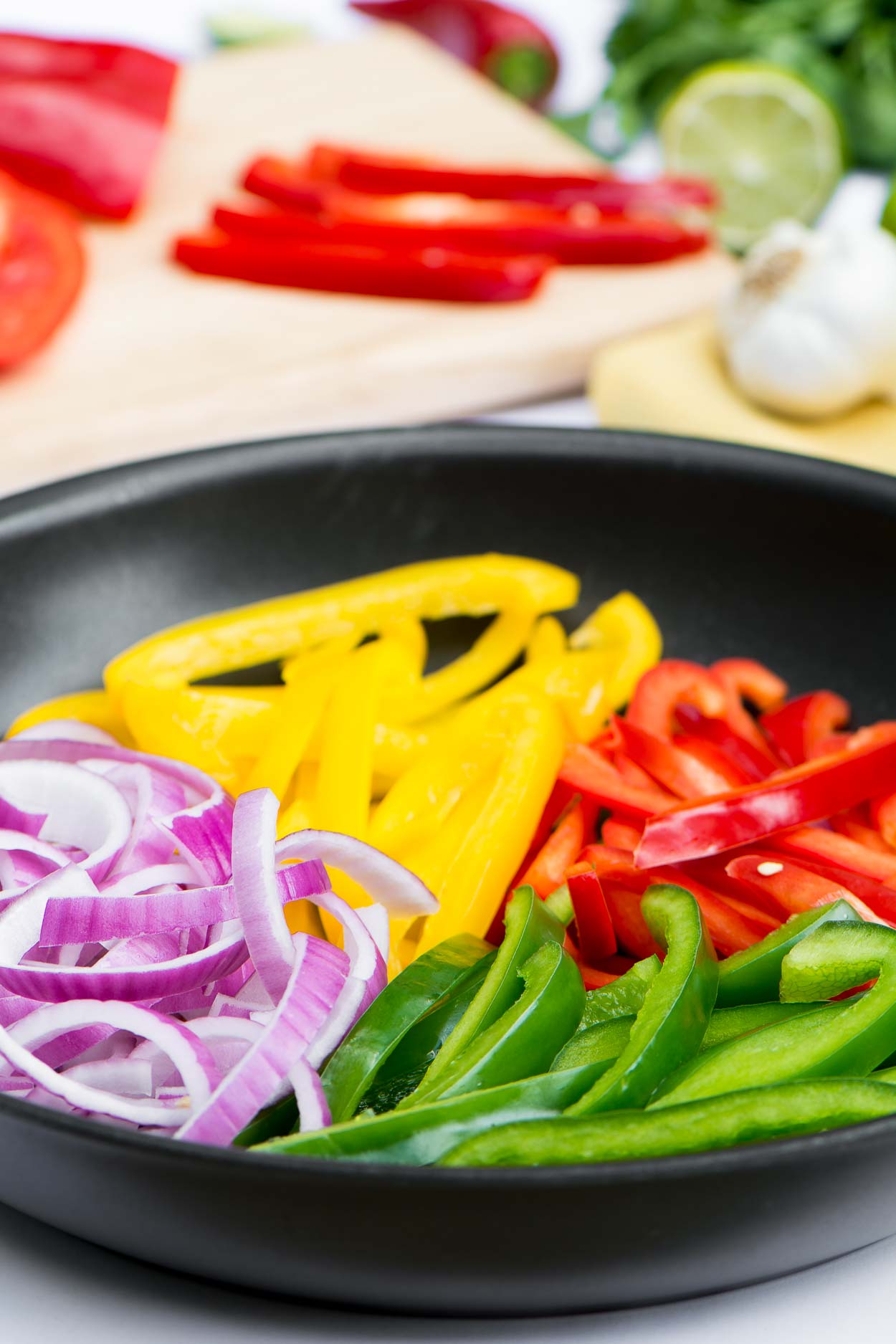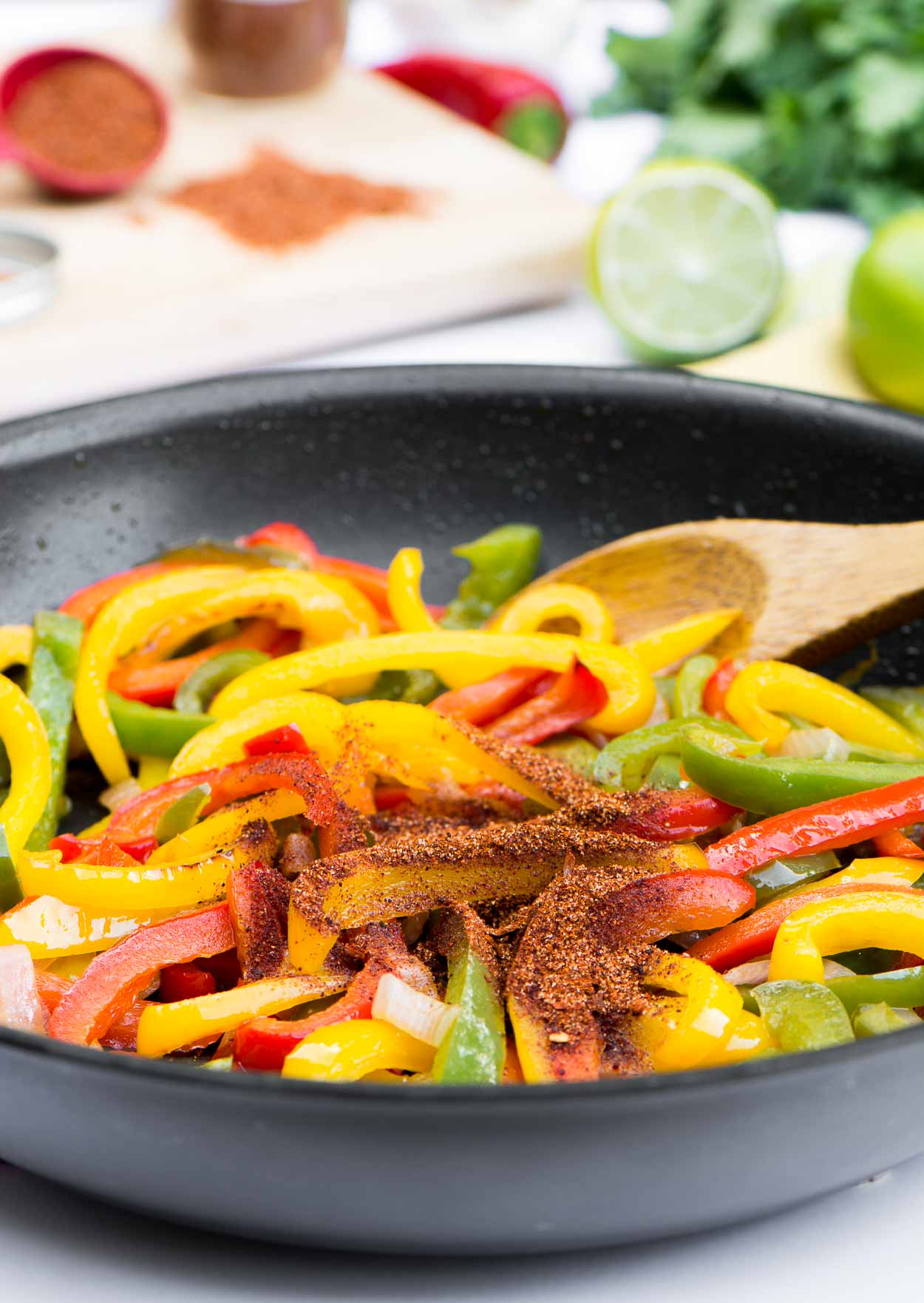 If the flavor of this savory fajitas seasoning wasn't enough, how about how easy and simple it is to make? You just combine a few common household pantry ingredients together; chili powder, salt, paprika, pepper, onion and garlic salt, cumin, cayenne and crushed red pepper flakes together, and that's it! Using popular household seasonings is especially convenient because you won't find yourself searching for any crazy, weird and expensive ingredients at the grocery store.
I make a quadruple batch of fajitas seasoning and store in it a small, glass mason jar in my pantry. When I am ready to make fajitas, I have the seasoning ready to go. Making a large batch saves me time, even if it's only a few minutes.
One of the lessons I have learned in cooking from scratch and making more of our food prepared fresh over the past few years, is that recipes are not as stringent, apprehensive or scary as they may look.
In fact, they are fully customizable.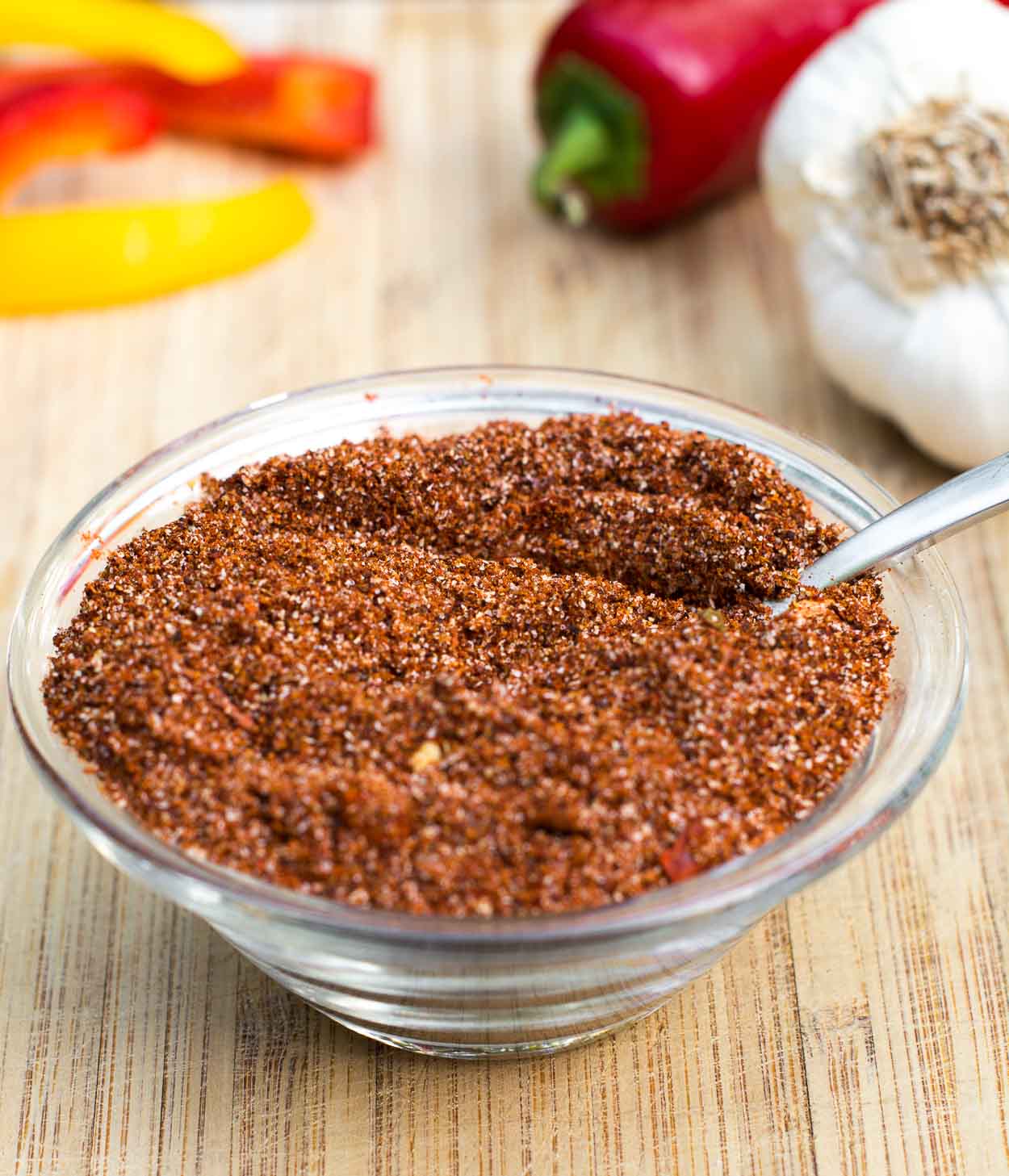 You can cut down on the salt or kick up the heat. I omit salt and sugar whenever I can based on my personal, dietary needs. Usually if a recipe calls for salt or sugar, I will half the amounts and see how the recipe tastes. The next time I make the recipe, I will try it without the sugar and salt at all, and see if I can tell a distinguishable difference. If not, then I take it out of the recipe altogether, which most of the time I successfully do.
I am not a real garlicy person. Yes, I know that 'garlicy' is not a word, but you know exactly what I mean when I say something has a strong garlicy taste, right?  I tend to tame down the garlic in a recipe, but not altogether, because it is a seasoning element that I feel really serves a purpose in many dishes. As long they are not large chunks of garlic, I'm good.
I also love spicy foods so whenever a recipe calls for cayenne or crushed red pepper flakes, I tend to apply them liberally to my dish. That's to be expected because I like to spice up anything with some hot sauce or crushed red peppers.
Did you know that I add crushed red peppers to my egg whites for breakfast?
It's true. I totally do.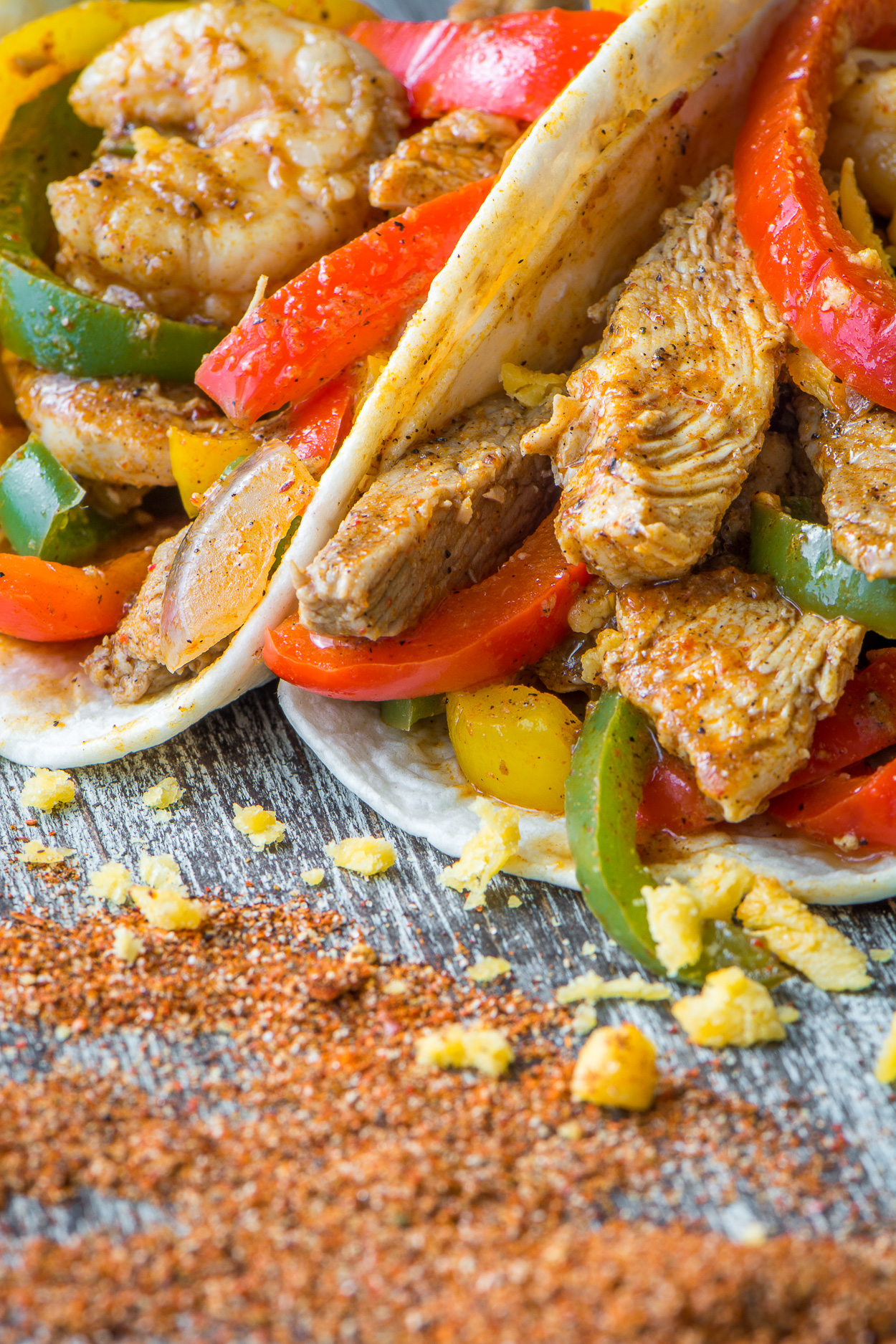 If you like spicy, you should try it sometime. It's actually pretty good.
The point to all of this is you can play with and customize recipes to your liking. This versatile recipe is a great example.
Herbs and spices do not like moisture, so they should be stored in an air-tight container in a cool, dry area. Most herbs and spices can be stored, when done properly, for up to two years. However, with any food item, if the flavor tastes 'off' or losses its flavor, toss it and make a new batch. I use my fajitas seasoning up within a month or two and end up making another quadruple batch at that time.
So, here you go! Here is a perfect, 5 minutes tasty fajitas seasoning to add to your pantry for quick, easy meals.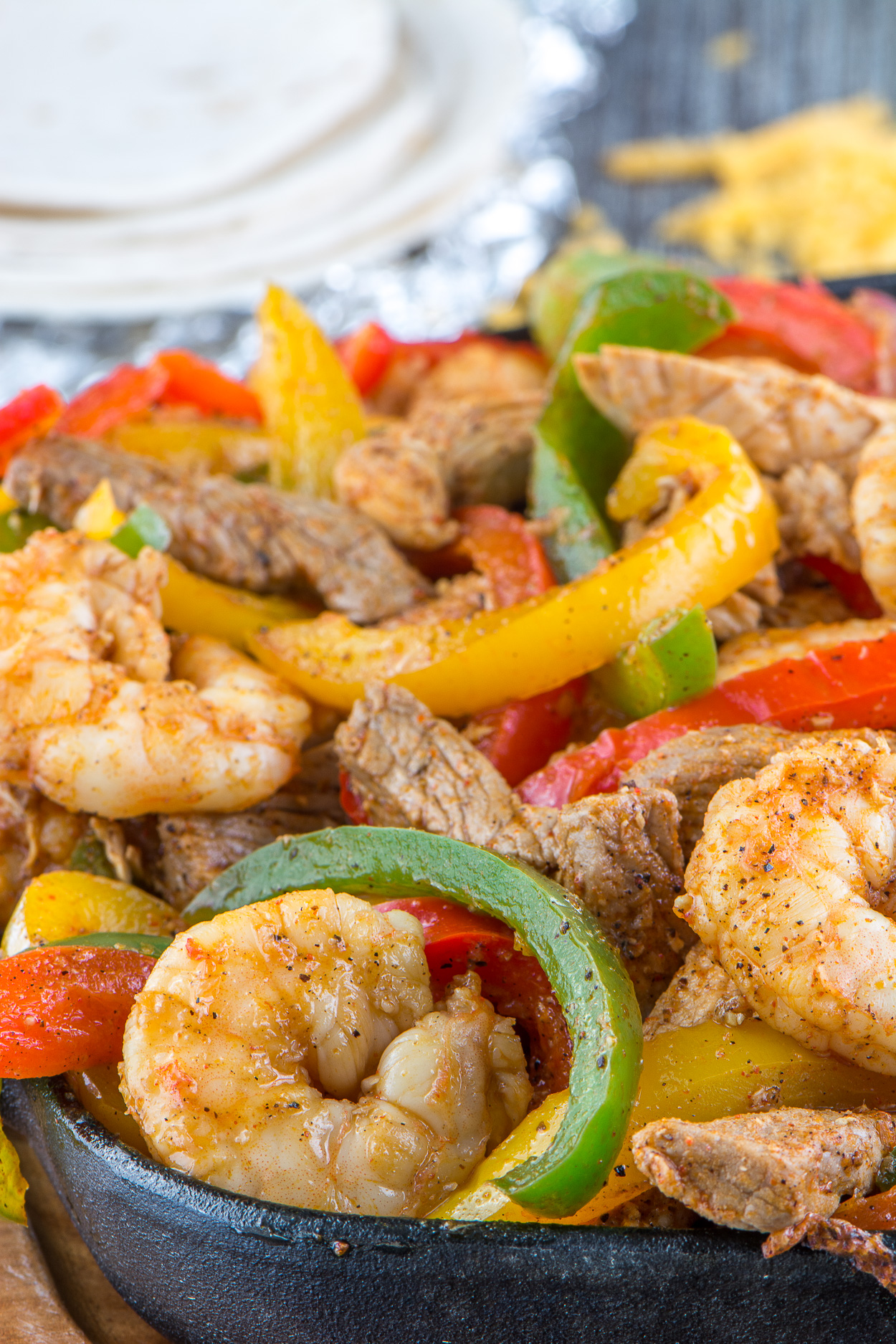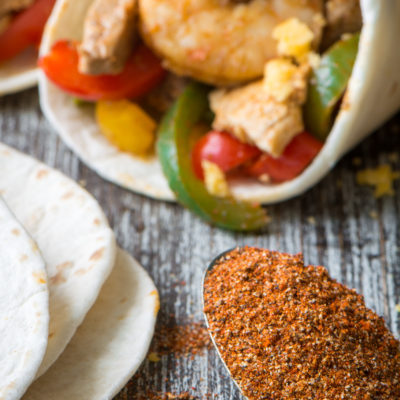 Perfect 5 Minutes Fajitas Seasoning
Ingredients:
2 teaspoons chili powder
1 teaspoon paprika
1 teaspoon pepper
1/2 teaspoon salt
1/2 teaspoon onion powder
1/2 teaspoon garlic salt (or powder)
1/2 teaspoon ground cumin
1/4 teaspoon cayenne
1/4 teaspoon crushed red pepper flakes
Directions:
In a small bowl, mix ingredients together with a spoon.
Store in a glass jar for up to 6 months.
To season fajitas, use 2 to 3 tablespoons to mix. Blend well together.