Raspberry Vanilla Cupcakes
Raspberry Vanilla Cupcakes – Cupcakes topped with soft, creamy, raspberry vanilla buttercream frosting. This isn't your ordinary cupcake.
I came up with the idea for a raspberry infused frosting when I made a batch of brownies last year. With our family of six, we have a rainbow for a flavor palette. None of us, I think, will ever agree on just one type of brownie/cupcake/cake topper.
The top frosting contenders are usually vanilla buttercream, your classic, alway a winner chocolate, vanilla cream cheese, or no frosting/naked.
I just so happen to be an equal opportunity baked goods lover.
After making the brownies, I made both a chocolate frosting and a cream cheese frosting. I wanted to take it a step further and see what it would taste like if I infused a natural, raspberry flavor into the vanilla cream cheese frosting by extracting the juices from raspberries and adding them to the recipe.
This was also during my juicing phase. Don't judge.
I took a handful of fresh, organic raspberries and hand pressed them into a mini strainer I found in our kitchen's junk drawer. It's also where I keep the unsymmetrical kitchen tools that disables my other kitchen drawers from closing correctly.
It's my junk drawer for kitchen tool delinquents. But I digress.
Anyhow, after infusing the freshly squeezed raspberry juice into the vanilla cream cheese icing, it was surprisingly decadent. The frosting was light, and the flavor was subtle and complimentary with its fellow ingredient counterparts.
Fast forward to last week, and I decided to try it on top of some chocolate cupcakes. Only this time, I infused the raspberry juice into a vanilla frosting instead of a vanilla cream cheese frosting. The result was a sweet, culinary twist on a household classic.
I just use my vanilla cupcakes recipe or a chocolate cupcake recipe for the base. Here is a recipe for raspberry vanilla frosting.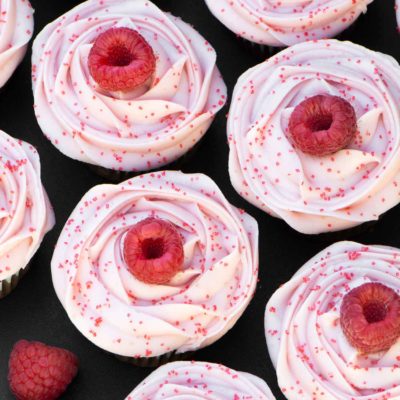 Raspberry Vanilla Cupcakes
Ingredients:
1/2 cup (1 stick) butter
3 cups powdered sugar
1 1/2 teaspoon vanilla extract
1 tablespoon milk
2-3 tablespoons raspberry puree
Directions:
In a large mixing bowl, beat softened butter for 5-10 minutes on a high setting. (Use cold to slightly softened butter, not room temperature or frosting will not hold.) Turn off mixer. Add 2 cups powdered sugar, vanilla extract, milk and raspberry puree. On a low speed, mix well until mixture is full incorporated and blended together. Add 1 additional cup of powdered sugar. If frosting is too thick, add a teaspoon of milk or additional raspberry puree based on flavor preference. If frosting is too wet, soft or not stiff enough, add powdered sugar until desired consistency is reached.