Moist Chocolate Cupcakes with Chocolate Frosting
Classic Chocolate Cupcakes. Made from scratch using simple pantry ingredients and just one bowl, these party-time celebratory favorites taste better than any store bought mix and can be made in less than 30 minutes, which gives you plenty of time to lick the bowl.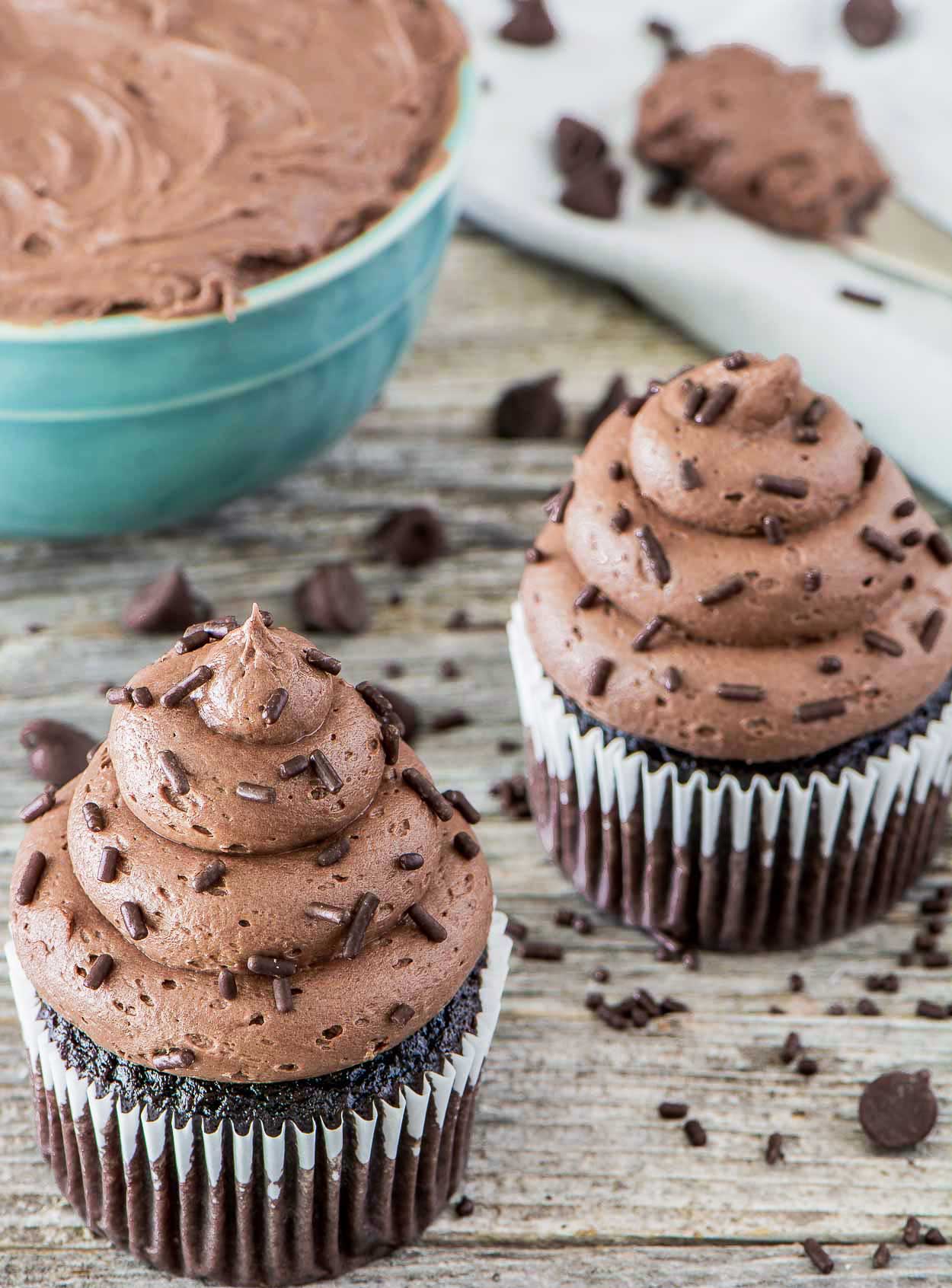 Whenever I have a neighbor or friend ask me to make them cupcakes for a special get together in their lives, I always get nervous. I know it's the anxiety in me, but I worry if I am capable of delivering a product of value for an important day of celebration in their lives.
My husband tells me I put too much pressure on myself. He is probably right. I worry too much if the frosting was decorated just right, or anyone will notice the imperfection in the cupcake that to me, is clearly visible.
And every time, I receive warm, excited feedback of how much of a hit the cupcakes were.
This is why I didn't want to call this a 'back to the basics' recipe. Just because this is a standard classic, it does not mean that when someone tries baking this recipe that they are making a 'basic' recipe. See, I disagree with that because for many people, this recipe is complex.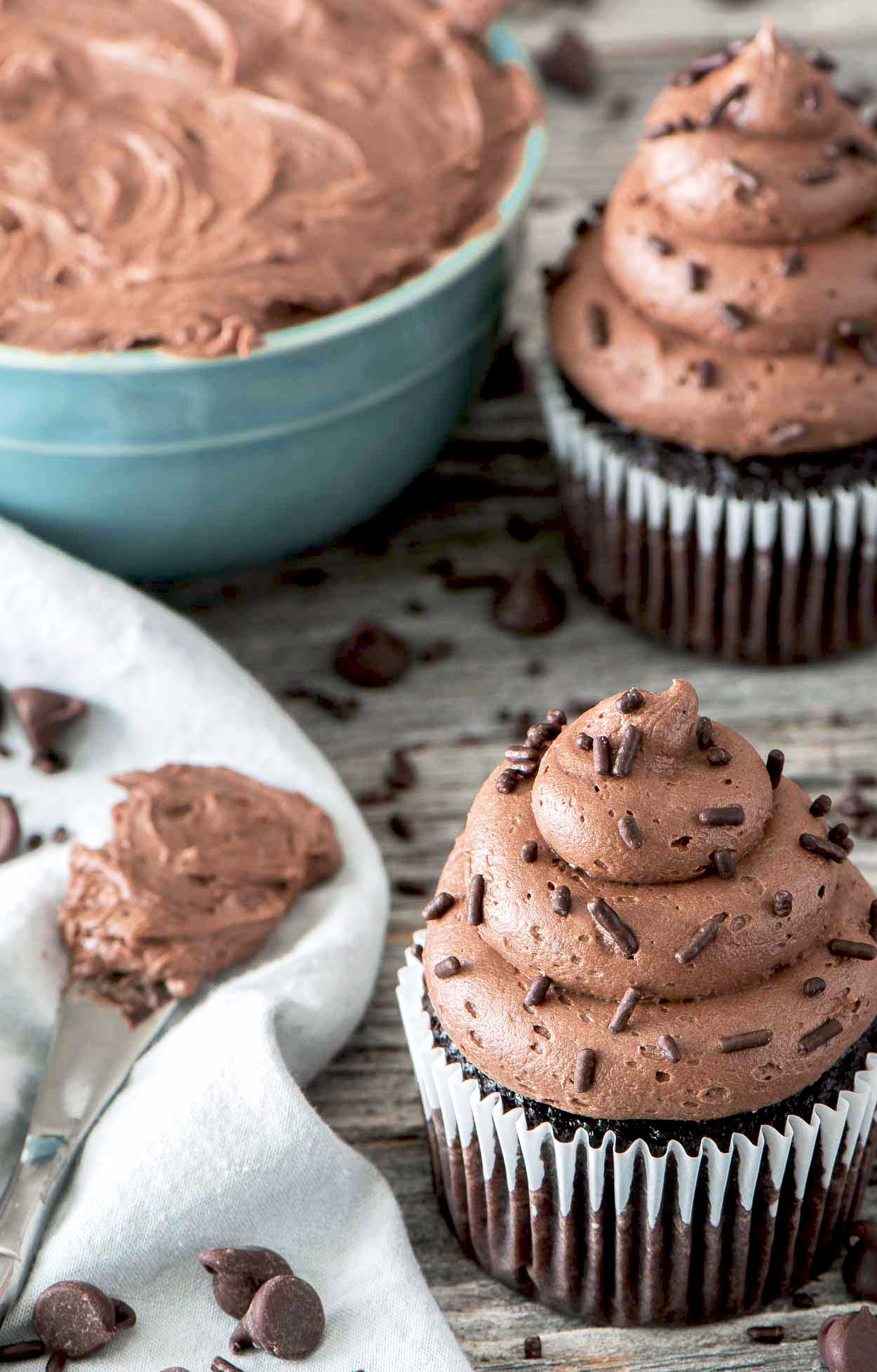 Box mix, to many people, is considered to be made from scratch. And there is nothing wrong with that either. Even as an avid baker, I have been known to whip together chocolate fudge brownies or cakes from a box.
Let's face it. In today's rushed, busy world, some of us don't even have time to make anything from scratch. There is nothing wrong with taking full credit for making a birthday cake or some cupcakes from a box mix and saying you made it from scratch.
Chocolate cupcakes are no exception.
There is also nothing wrong with someone who is brave enough to try baking cupcakes or cakes from scratch using common household pantry ingredients, most of which you have on hand anyways but probably didn't realize.
Do you have flour, sugar, salt and eggs? Well, guess what?
You are already half way there!
That is why baking shouldn't be scary, or considered 'back to the basics'.
So, for those of you who perused this blog post thinking you wanted to make some cupcakes from scratch but didn't know if you found the right recipe to give-it-a-try, you are in luck.
Because the perfect, simple, best chocolate cupcakes recipe is right here.
This is seriously the only chocolate cupcake recipe you will ever need.
Why, you may ask?
Well, it's because these classic chocolate cupcakes are moist and flavorful with a tender, light crumb. The chocolate frosting is creamy and smooth. Married together, this is a chocolate lover's dream.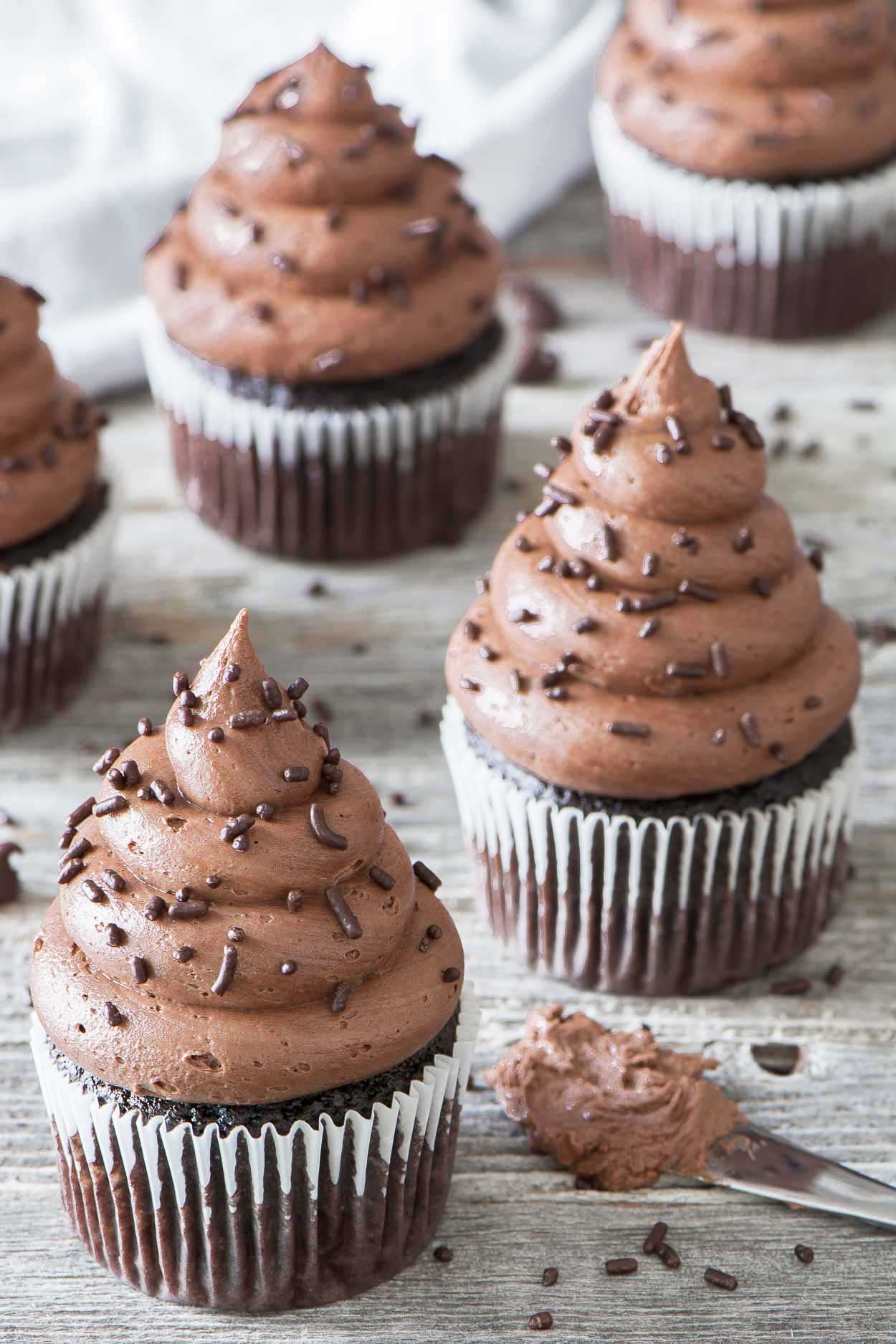 Oh, and if that wasn't tempting enough, this recipe is super easy to make. It uses one bowl to mix everything together. The cupcakes take only 5 minutes to whisk together, 16 minutes to bake, 5 minutes to cool and another 5 minutes to decorate.
So, in about 30 minutes, you have beautiful, made from scratch cupcakes for your next celebratory event.
After you prep your muffin tin with cupcake liners, and setting your oven to 350 degrees, prepare your mix in a large mixing bowl. Using a large batter scooper (which is the equivalent to 3 tablespoons), fill each muffin liner with one full scoop.
Bake cupcakes for 14-18 minutes or until a tooth pick runs clear when checking the middle of a cupcake for doneness.
My oven cooks them for exactly 16 minutes. However, every oven is different, so begin checking the cupcakes for completeness around 14 minutes.
After the chocolate cupcakes have been removed from the oven and cooled for about 5 minutes, place the chocolate cupcakes on a cookie rack to cool down to room temperature.After cupcakes have cooled, begin frosting cupcakes as desired. Cupcakes can be stored in an air-tight container for up to 5 days.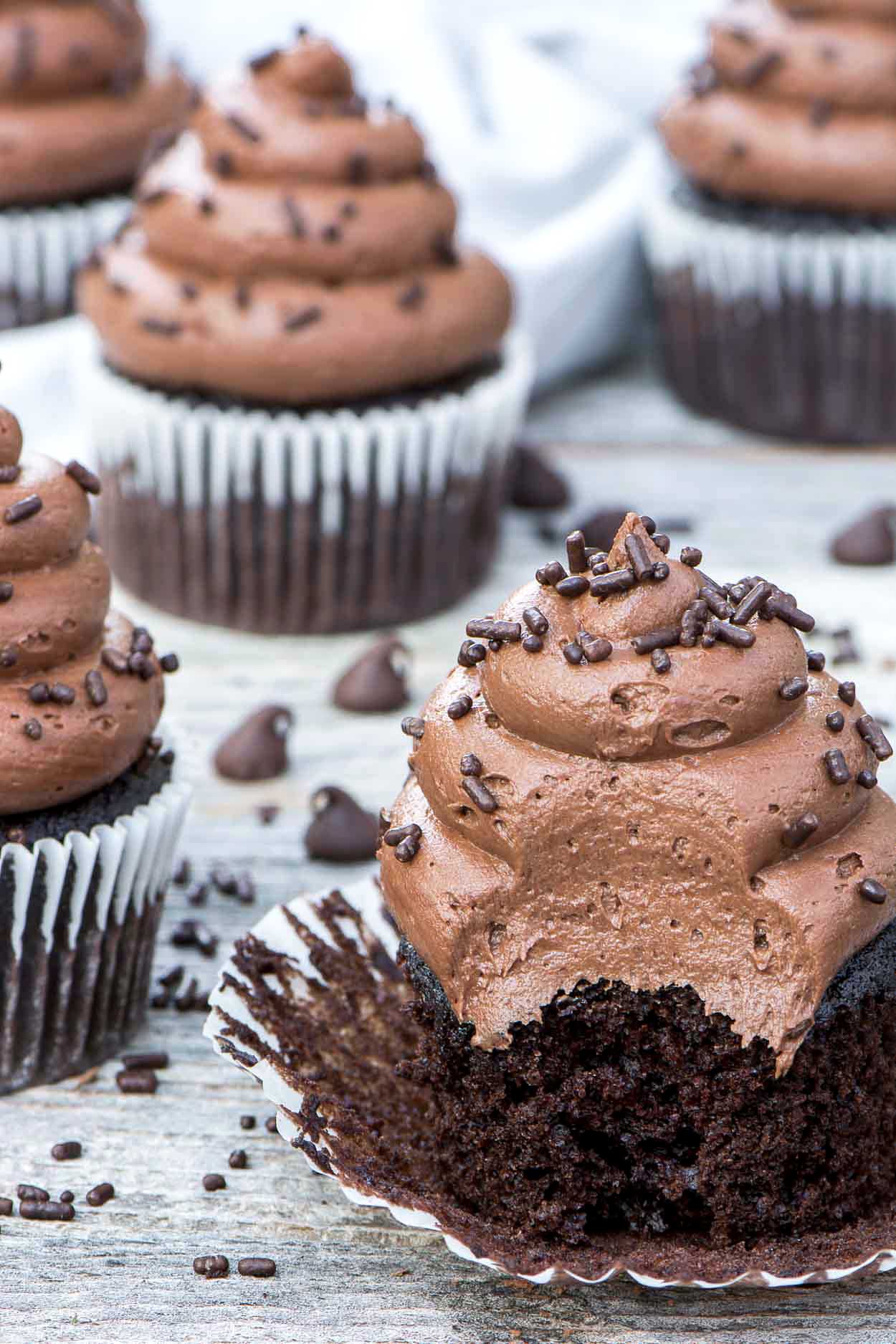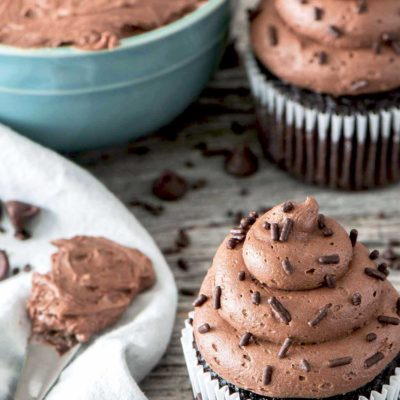 Moist Chocolate Cupcakes with Chocolate Frosting
Ingredients:
1 and 3/4 cups all purpose flour
1 and 2/3 cup sugar
1 and 1/4 teaspoon baking soda
1 teaspoon salt
2 large eggs
3/4 cups canola or vegetable oil
2/3 cups cocoa
1 and 1/4 cup water
1 and 1/2 teaspoon vanilla extract
CHOCOLATE BUTTERCREAM FROSTING
2 sticks salted butter
2/3 cup unsweetened cocoa powder
6-7 cups confectioner's sugar
7-8 tablespoons milk (or heavy cream)
3 teaspoons vanilla extract
Directions:
Preheat oven to 350°F. Line cupcake pan with liners.
In a large mixing bowl, add eggs, oil, cocoa, water and vanilla extract. Combine well.
In a separate bowl, add flour, sugar, baking soda and salt. Combine well.
Add flour mixture to large mixing bowl of wet ingredients. Using a hand-held mixer, beat at medium speed until well combined.
Fill cupcake liners a little over 1/2 way. (If using a large ice cream scooper, fill each liner with one full scoop.)
Bake for 12-15 minutes or until a toothpick comes clean (a few crumbs is ok) when checking the middle of a cupcake.
Remove the cupcakes from oven and allow to cool on a cooling rack until close to room temperature (5-10 minutes.)
To frost cupcakes, beat butter on medium speed for 2-3 minutes until light and whipped. Add confectioner's sugar, vanilla and heavy cream/milk.
Using a Wilton 2d Tip and a clear piping bag, frost cupcakes as desired.