Chewy Chocolate Chip Granola Bars
Homemade chewy chocolate chip granola bars with mini chocolate chips. No baking, no fuss, and ready in 15 minutes.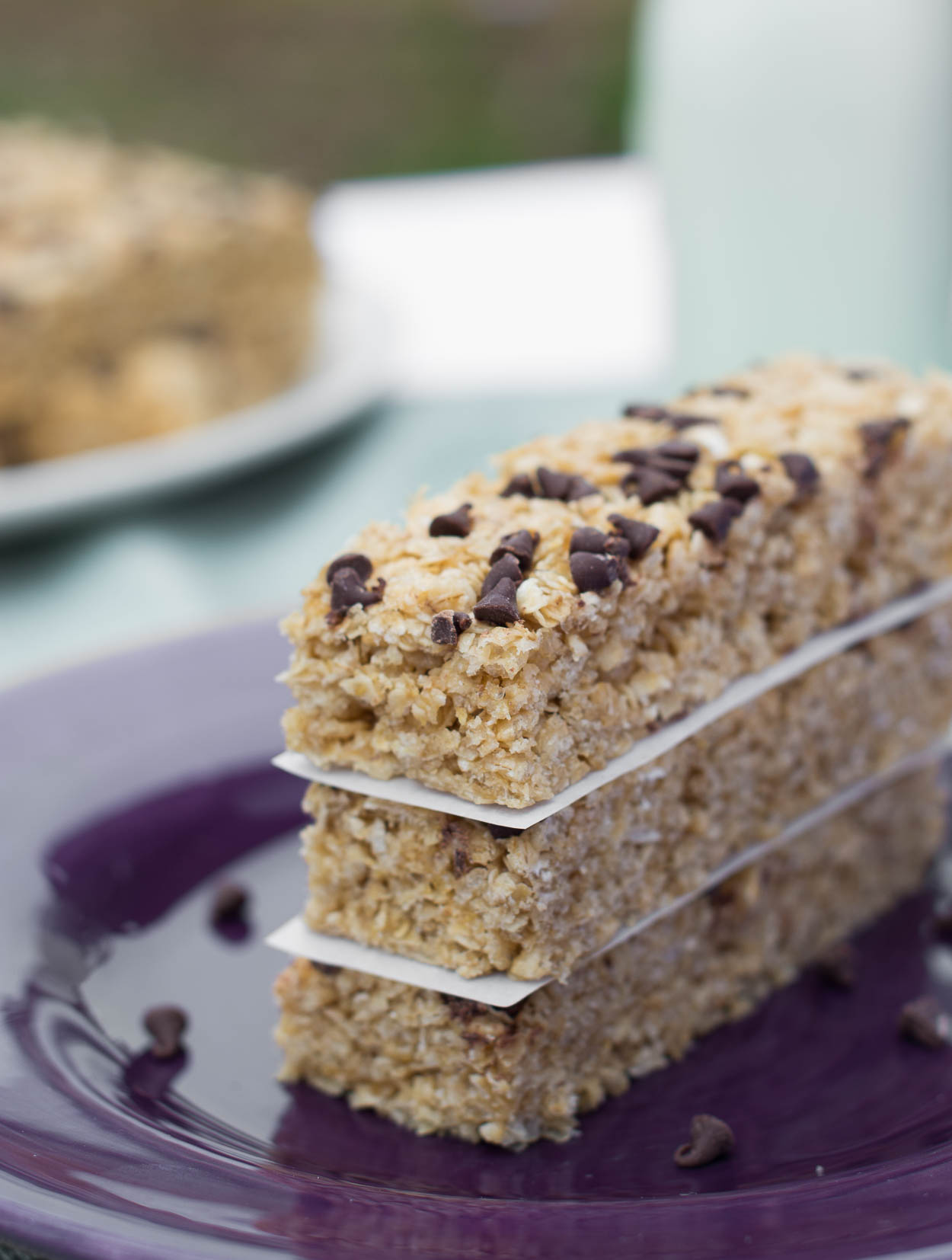 These chewy, chocolate chip granola bars are a family favorite in our house. We just celebrated my husband's birthday where he requested granola bars instead of a traditional-style birthday cake. I made seven batches of these tasty, no-bake chocolate chip granola bars. My goal was to stockpile them and put them in the freezer for a later date.
That didn't happen.
It has been two days since I have made them, and they are almost gone.
The wonderful thing about making homemade granola bars is that you are able to eliminate the unhealthy fats, hydrogenated oils and extra sugars commonly found in the store bought bars. Therefore, you are making a healthier version for you and your loved ones.
That is, if you are willing to share…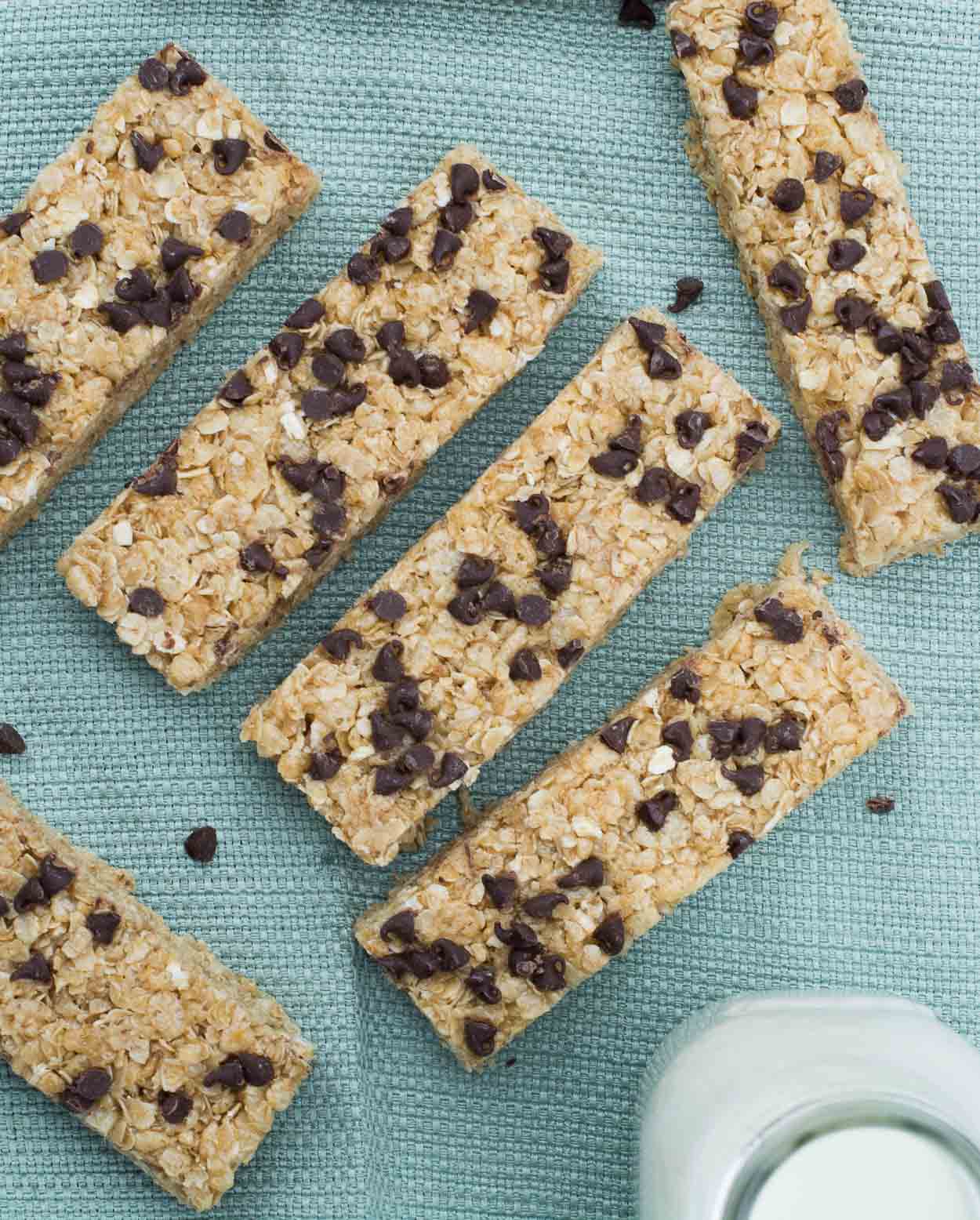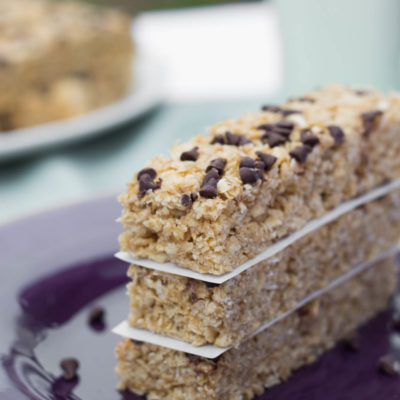 Chewy Chocolate Chip Granola Bars
Ingredients:
1/4 cup butter
1/4 cup honey
1/3 cup packed light brown sugar
2 cups quick oats
1 cup rice cereal
1/4 teaspoon vanilla extract
2 tablespoons mini chocolate chips (or more depending on how chocolately you like them)
Directions:
Add oats and rice cereal to bowl. Mix together.
In a medium saucepan, combine brown sugar, honey and butter. Bring the mixture to a boil over medium-high heat. Remove the saucepan from heat.
Add vanilla. Mix together well for one to two minutes.
Add the wet ingredients from the sauce pan to the bowl of dry ingredients. Stir ingredients together until all dry ingredients are evenly coated.
Transfer the granola mixture to a 9-by-13-inch ungreased baking pan and press firmly to evenly fill. Let cool to room temperature. Using the back end of a spatula, gently press the chocolate chips onto the top of the granola.
Let the granola mixture set until firm, about 15 minutes, then cut into 2 1/4-by 3-inch bars.
Helpful hints – Make sure to pack mixture down tight into the pan or they will crumble when you cut them and pick them up. Also, let them cool almost completely before adding the mini chocolate chips or they will just melt all over your hands and make a gooey mess.
Price Comparison
This is always my favorite part when cooking from scratch. How do chewy, chocolate chip granola bars compare to their pre-made counterpart? Remember, prices vary by region. Your 'buy prices' may be more or less expensive than what I pay in my area.
Cost Breakdown
1/4 cup butter  (.23 cents)
1/4 cup honey  (.45 cents)
1/3 cup light brown sugar  (.08 cents)
2 cups oats  (.19 cents)
1 cup rice cereal (.16 cents)
1/4 teaspoon vanilla (.02 cents)
2 tablespoons mini chocolate chips  (.16 cents)
Total cost for ingredients is $1.29.
Monthly/Yearly Scenario
If you bought two boxes a month, you would save $3.92 a month or $47.04 a year.
Store Bought – Quaker Chewy Chocolate Chip Granola Bars $3.25 / .41 each
Made from scratch – Chewy Chocolate Chip Granola Bars $1.29 / .16 each
WINNER – Made From Scratch
Total Savings of 60%
Final Thoughts
There was a pleasant combination of moistness, chewiness and a stronger flavor of vanilla and honey that I have not tasted in any of the granola bars I have purchased at the grocery store. If I knew making chewy homemade granola bars was this easy, delicious and cheaper to make, I would have stopped buying them at the grocery store a long time ago.
Did you give this recipe a try? I would love to hear your thoughts.