Chewy Chocolate Chip Granola Bars
Chewy chocolate chip granola bars are infused with with oats, vanilla, honey and topped with mini chocolate chips. No baking, no fuss, and ready in 20 minutes.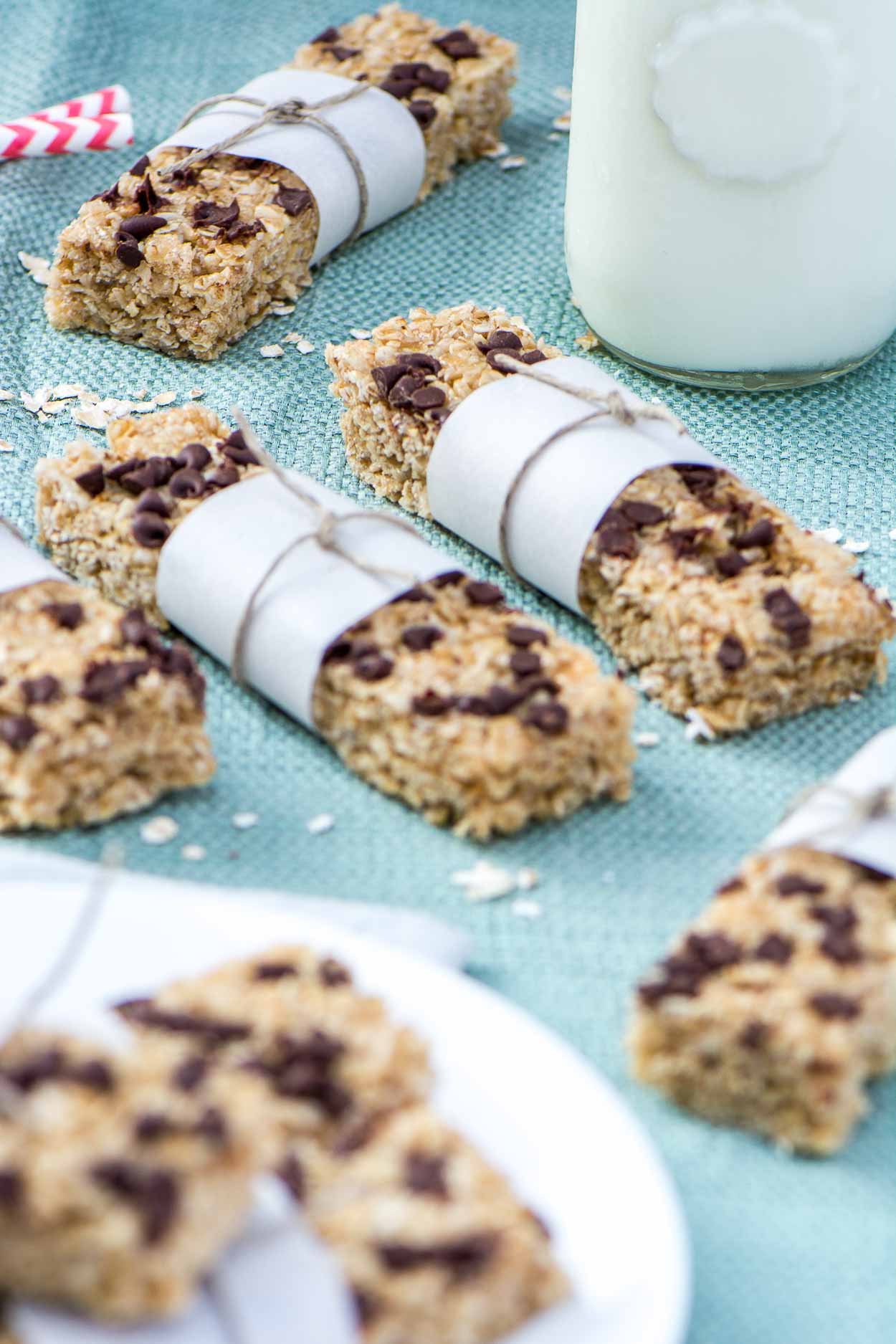 *This post has been updated with new text and pictures as of August 2017.
Each year for the birthday celebrations in our house, I give the birthday boy or girl a choice of what they would like to have for their birthday cake. They get to pick their cake theme, flavors and toppings. Sometimes we have double vanilla unicorn cakes, chocolate heart cakes, German chocolate cakes and even pumpkin cheese cakes.
This year, for my daughter's 13th birthday, she opted for an ice cream bar. We had chocolate, strawberry and vanilla ice cream. The ice cream bar included an array of toppings such as cherries, whipped cream, caramel syrup, chocolate syrup, and of course, sprinkles.
Because what is an ice cream bar without sprinkles?
A couple of the guests even made ice cream floats. No, it wasn't your typical birthday day cake, but they were happy. And at the end, that's all that really matters. Plus, it's kind of fun to switch things up.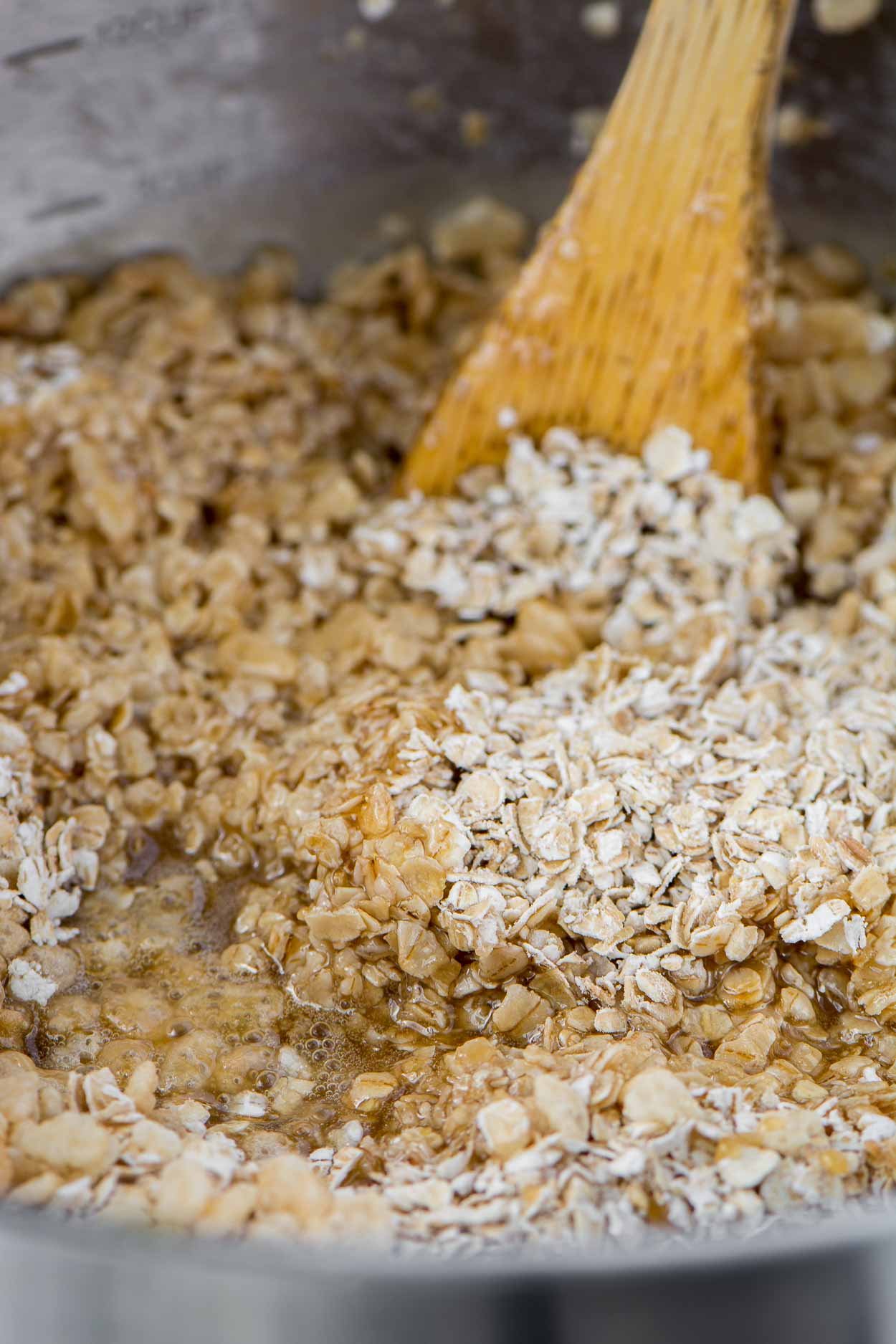 My husband usually chooses a homemade German chocolate cake for his birthday. However, the first year I made these granola bars, my husband requested them for his birthday instead of his usual favorite.
I made seven batches of chewy chocolate chip granola bars that day. My goal was to stockpile most of them and put them in the freezer for a later date.
But that didn't happen.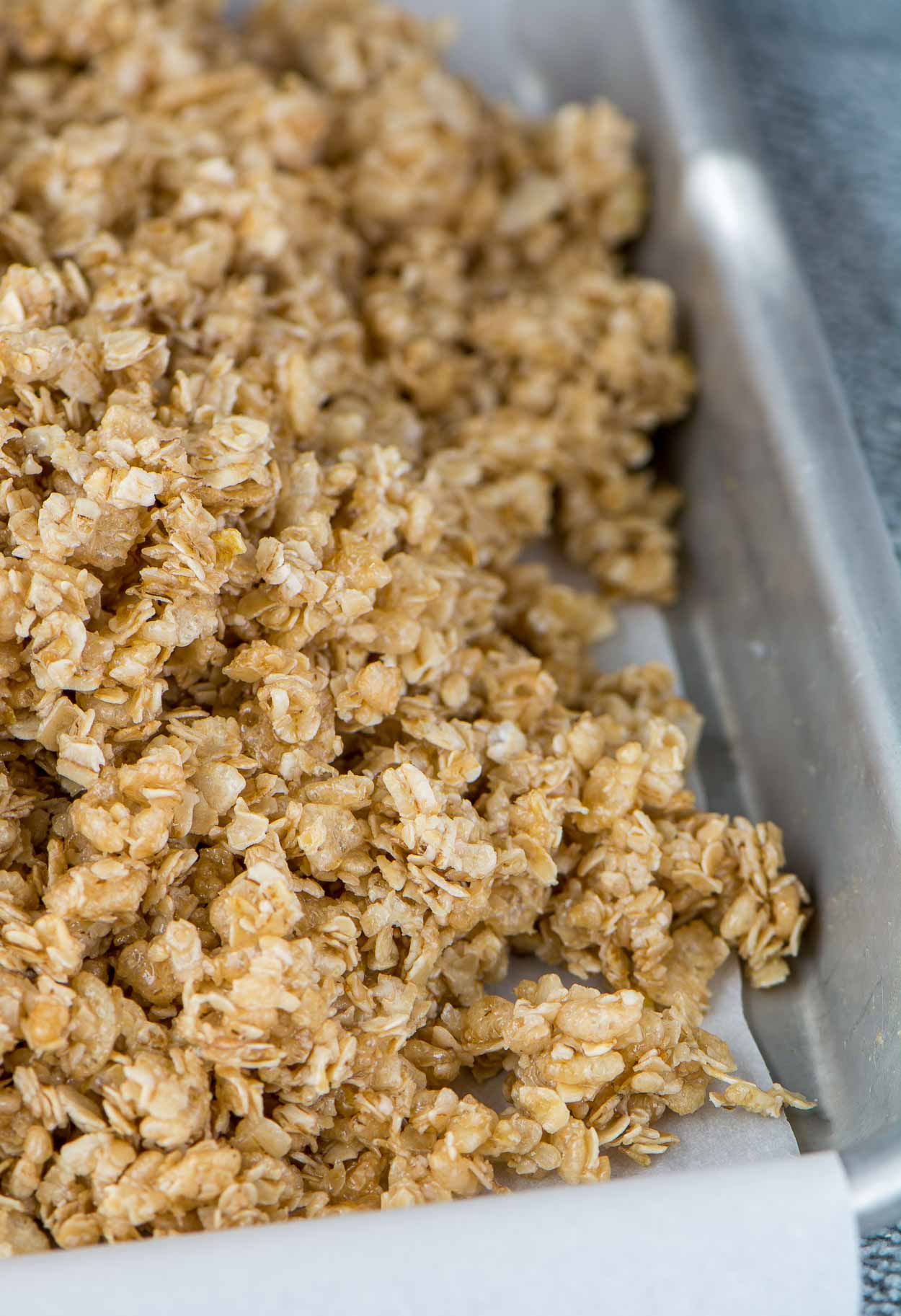 In just three, short days, all seven batches were gone.
If you haven't made granola bars before, you are in for a real treat. They taste so much better than store bought ones. They are bigger in size, are made with real ingredients and have a more robust flavor. You can literally taste the honey, vanilla, oats and chocolate in every bite.
I am falling in love with chewy chocolate chip granola bars all over again just writing about them.
If they happen to last more than a day or two in your house, which probably won't happen, but if they do, they store really well in an air-tight container for up to seven days.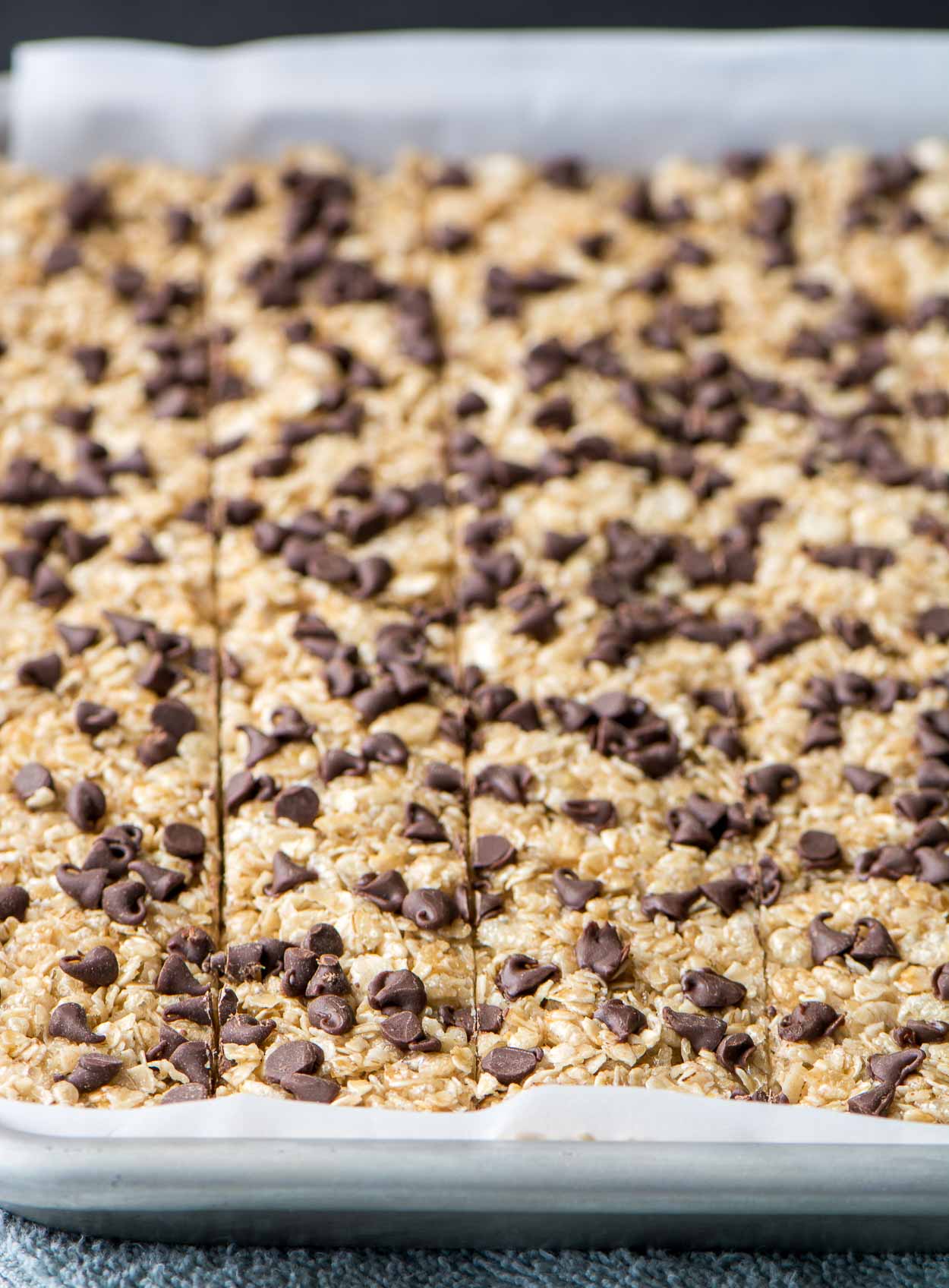 They are perfect to pack in school lunch boxes for your sweet little ones. When I pack these as a dessert in my kid's lunch boxes, I know they are having a good lunch that day.
Because they are like me.
And food makes me happy.
Another thing I really like about these homemade chewy chocolate chip granola bars is that they are filling. I feel satisfied after having one, where as I could eat an entire box of store bought granola bars and never achieve that satisfied, full feeling.
When you make these granola bars, use the back of a large, flat spatula to press down the chocolate chips into the granola mix. If you are warm blooded like me, those mini chocolate chips will melt pretty fast all over your hands.
Licking chocolate off your hands isn't the worst thing to happen in the world. You just won't have as many chocolate chips on the granola bars as previously planned.
The spatula also helps press more chocolate chips down at once versus using your fingers, which makes prep time go faster.
And we are all about some efficiency, are't we?
—
*This recipe is part of the cooking from scratch series*
If you follow the cooking from scratch series I write about, this recipe is included in that series. What that means is along with the recipe, I will provide a break down of the cost of ingredients for that particular recipe. I will include and compare that price to a popular store-bought product that is similar.
This is merely for your convenience, but this is nice if you are working with a food budget, or are curious whether or not it would be cost effective to cook from scratch. From there, you can determine if it's worth making that item from scratch or not. (Please note that prices are subject to change at any given time and prices also will vary by region.)
If you want to check out other recipes in this series, simply click on the cooking from scratch series link or type in 'cooking from scratch' into the search bar at the top of the blog.
Cost Breakdown
1/4 cup butter  (.23 cents)
1/4 cup honey  (.45 cents)
1/3 cup light brown sugar  (.08 cents)
2 cups oats  (.19 cents)
1 cup rice cereal (.16 cents)
1/4 teaspoon vanilla (.02 cents)
2 tablespoons mini chocolate chips  (.16 cents)
Total cost for ingredients is $1.29.
Store Bought – Quaker Chewy Chocolate Chip Granola Bars $3.25 / .41 each
Made from scratch – Chewy Chocolate Chip Granola Bars $1.29 / .16 each
WINNER – Made From Scratch
Total Savings of 60%
Monthly/Yearly Scenario
If you bought two boxes a month, you would save $3.92 a month or $47.04 a year.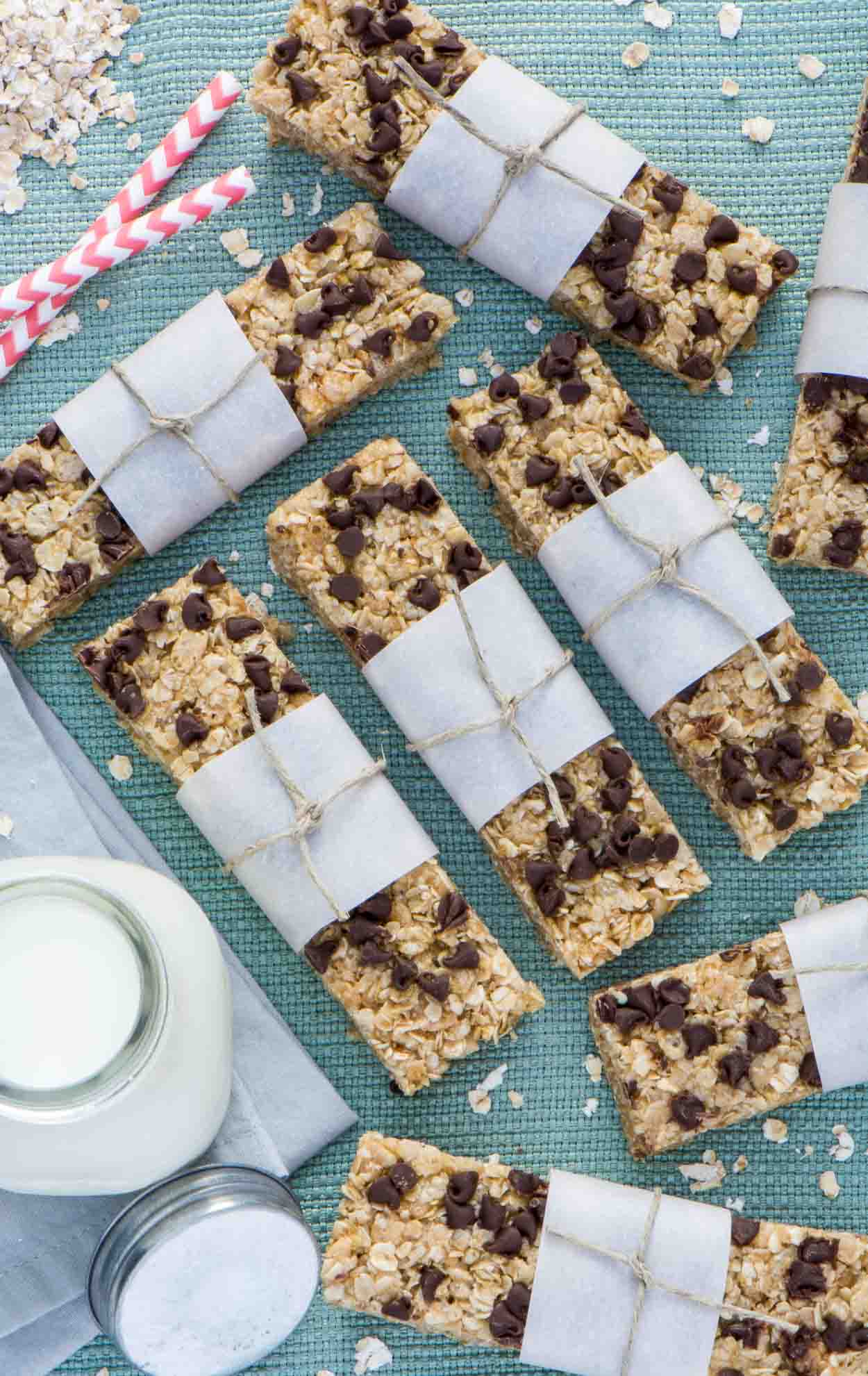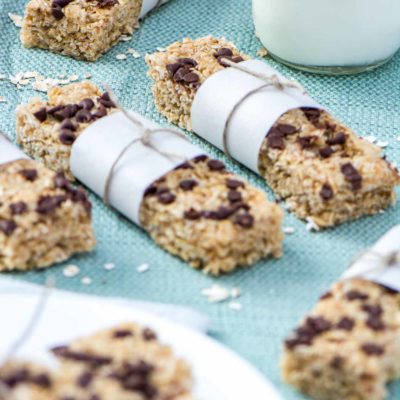 Chewy Chocolate Chip Granola Bars
Ingredients:
1/4 cup butter
1/4 cup honey
1/3 cup packed light brown sugar
2 cups quick oats
1 cup rice cereal
1/4 teaspoon vanilla extract
2 tablespoons mini chocolate chips (or more depending on how chocolately you like them)
Directions:
In a large mixing bowl, add oats and rice cereal. Mix together.
In a medium sized saucepan, combine brown sugar, honey and butter. Bring mixture to a boil over medium-high heat. Stir occasionally.
Remove the saucepan from heat. Let sit for 30 seconds. Add vanilla. Mix well together.
Add the wet ingredients from the sauce pan to the bowl of dry ingredients. Stir ingredients together until all dry ingredients are evenly coated.
Transfer the granola mixture to a 9-by-13-inch ungreased baking pan and press firmly to evenly fill. Let cool to room temperature.
Using the back end of a spatula, gently press the chocolate chips onto the top of the granola.
Let the granola mixture set until firm, about 15 minutes, then cut into 2 1/4-by 3-inch bars.
Helpful hints – Make sure to pack mixture down tight into the pan or they will crumble when you cut them and pick them up. Also, let them cool almost completely before adding the mini chocolate chips or they will just melt all over your hands and make a gooey mess.