Homemade Classic Waffles Recipe
These homemade classic waffles are light, fluffy and soak up so much goodness in every single bite. They use simple pantry ingredients and take less than 20 minutes to make!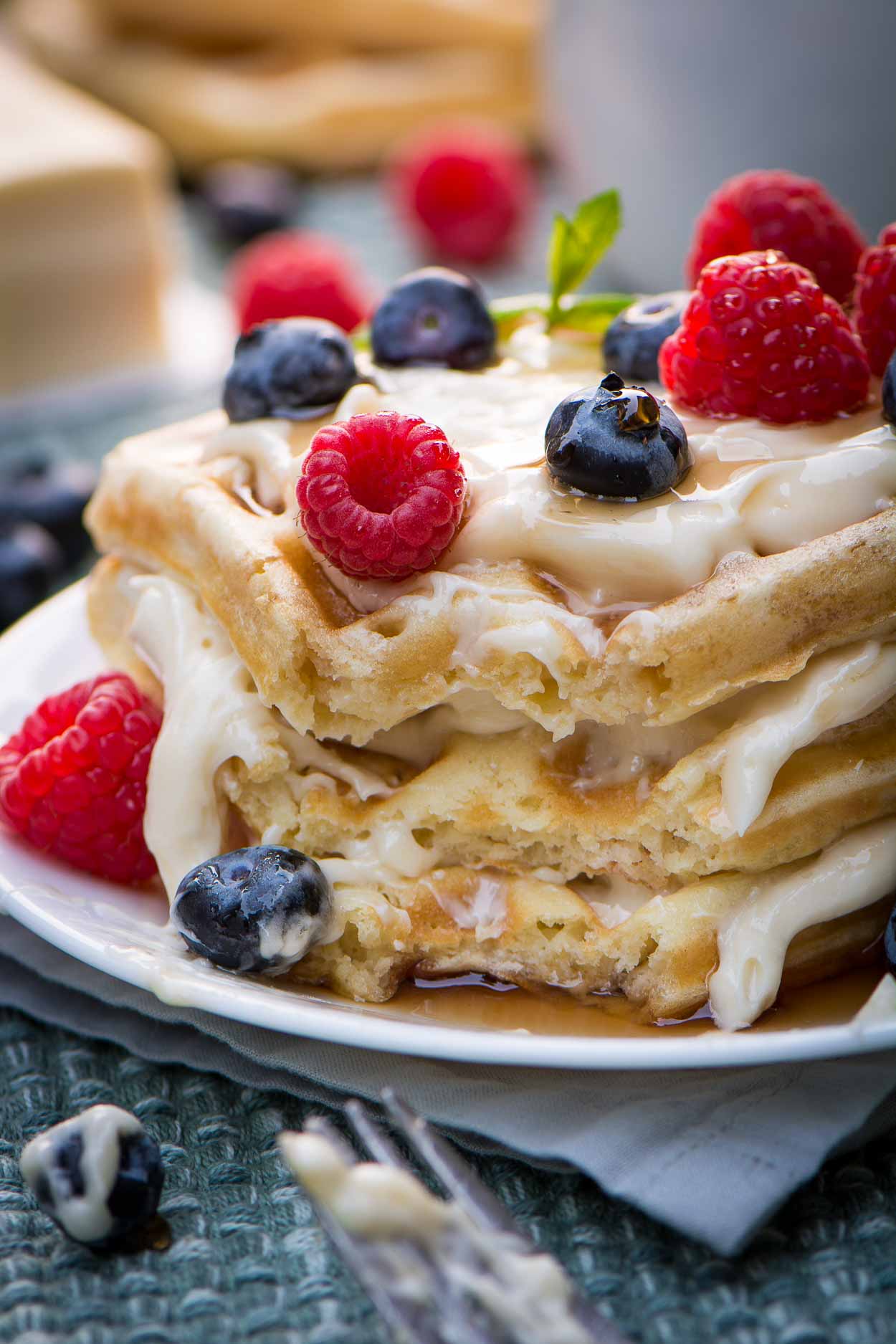 *This recipe has been updated with new photos and text as of June 2017.
Waffles are considered a staple item in our house. They are great for busy mornings when we want to feed the kids something hot and quick before rushing off to school and on the busy weekends before sports and activities bring on the start to a new day.
As most households will pretty much agree with, they also serve as a quick, easy dinner. I mean, who doesn't like breakfast for dinner?
Frozen waffles are good, but waffles taste even better when you can make them from scratch. Fresh, homemade waffles have crispy edges and are light and fluffy on the inside. Throw in some fresh fruit or chocolate chips to the mix, and this classic favorite is ready to be topped with some fresh butter and pure maple syrup.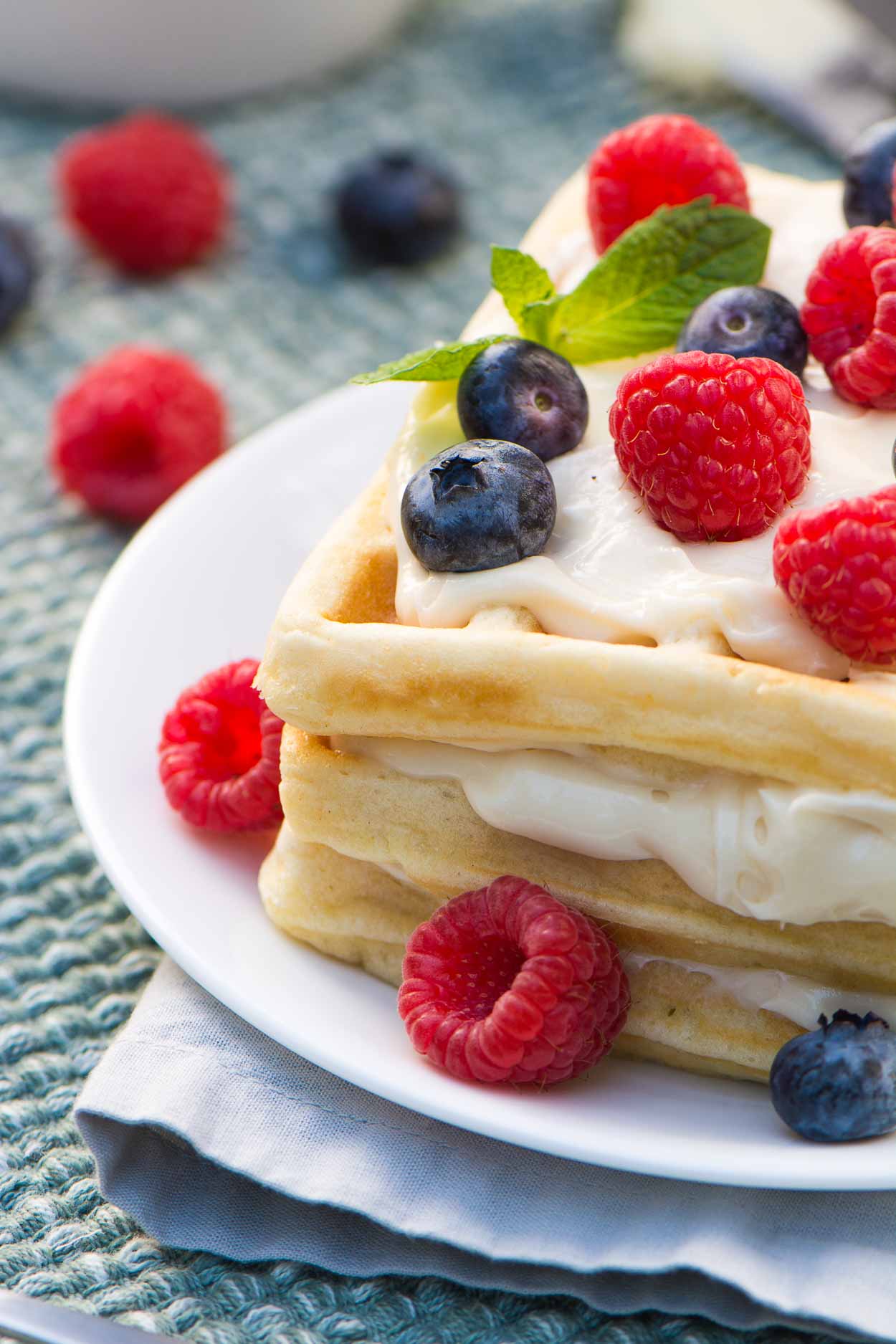 I love the versatility of this waffles recipe. Try a batch with some cinnamon and maple brown sugar, or adding some of your favorite fruit. My children love chocolate chip waffles. After I make the batter, I add a few chocolate chips to theirs before I place them on the waffle maker. I mean, you can't go wrong with a recipe when you can add chocolate, right?
Everyone has customized waffles for breakfast using the same, original batch of batter. What's not to love about that? One batch with various flavor outcomes.
That's less dishes to wash.
Pure maple syrup is probably one of the most popular toppings, but try adding whipped cream and a sprinkle of cinnamon. In the pictures of this post, I wanted to try adding fresh cream cheese frosting in between each layer of waffle deliciousness. My husband thought looked at me funny when I mentioned it, but guess what?
They were sooo good.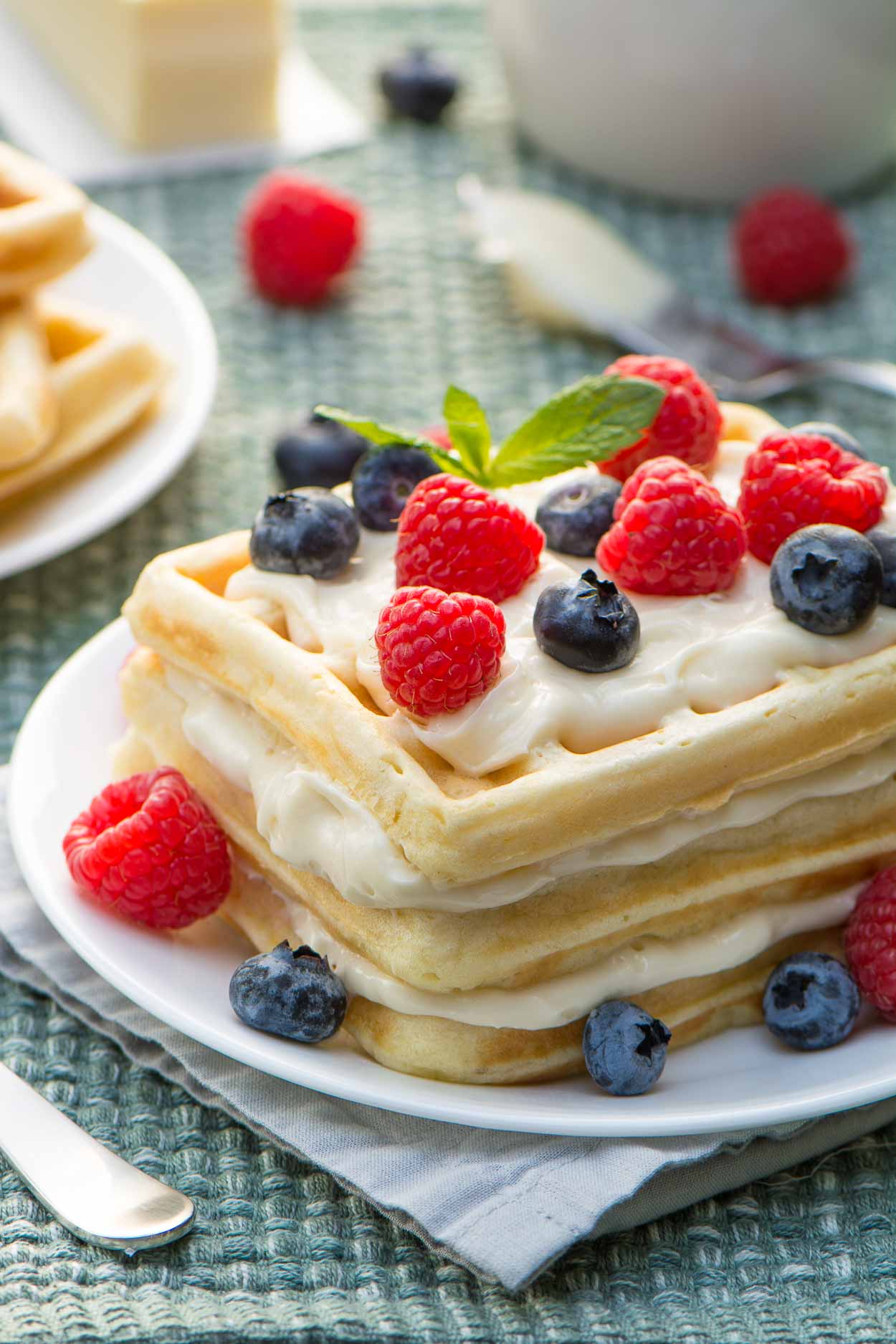 As the waffles make their way off the waffle iron, lay them on a wired cooling rack or they can become soggy quick. Do not stack them on top of each other as the steam from them will make each other soggy.
No one likes soggy waffles.
My children don't like them super crispy, either. They tell me they like them 'floppy'.
Yes, 'floppy'.
They told me while driving to school one morning, that floppy waffles are the best. It is when you can hold a waffle and it moves around enough to be floppy, but still has a little crisp to it. That is when you have made the perfect waffle.
So, there you go.
There is your morning knowledge on my children's view of the perfect waffle.
It needs to be floppy.
For best results, eat them fresh. But if you want, you can make a big batch of them and freeze them to enjoy another time. Cool them completely and lay them flat inside a freezer bag. Use parchment paper in between each one as you stack them so they will not stick to one another once frozen. Reheat in toaster oven or regular oven. Microwaving works too, but they will not be crisp.
And they certainly won't be floppy.
How do you customize your waffles?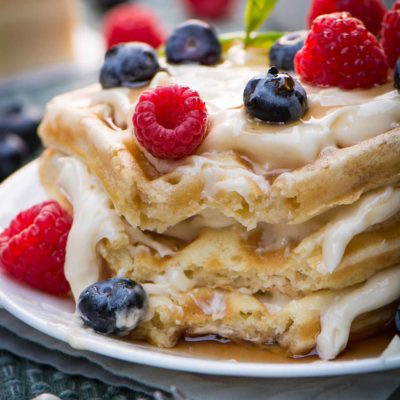 Classic Waffles
Ingredients:
2 cups flour   
1 teaspoon salt   
4 teaspoons baking powder
2 tablespoons sugar   
2 eggs     
1 1/2 cups warm milk
1/3 cup butter
1 teaspoon vanilla extract
Directions:
Add flour, salt, baking powder and sugar to bowl. Mix dry ingredients together. Set aside. Pre-heat waffle maker to desired temperature.
In a separate bowl, beat eggs. Add milk, butter and vanilla extract.
Add to dry ingredients. Mix together well for two minutes.
Cook based on your waffle maker's directions.
Place on cooling rack or plates lined with paper towels to absorb the steam from waffles. Flip waffles over after they have cooled for a minute to avoid them getting soggy on one side.
Serve with your favorite fixings – cinnamon, butter, syrup or fruit.
Place the rest in a gallon freezer bag, using a piece of wax paper to separate each layer. Squeeze out extra air from bag and stick in freezer.