Best Vanilla Cupcakes
These vanilla cupcakes are creamy, moist and full of vanilla flavor in every sweet bite.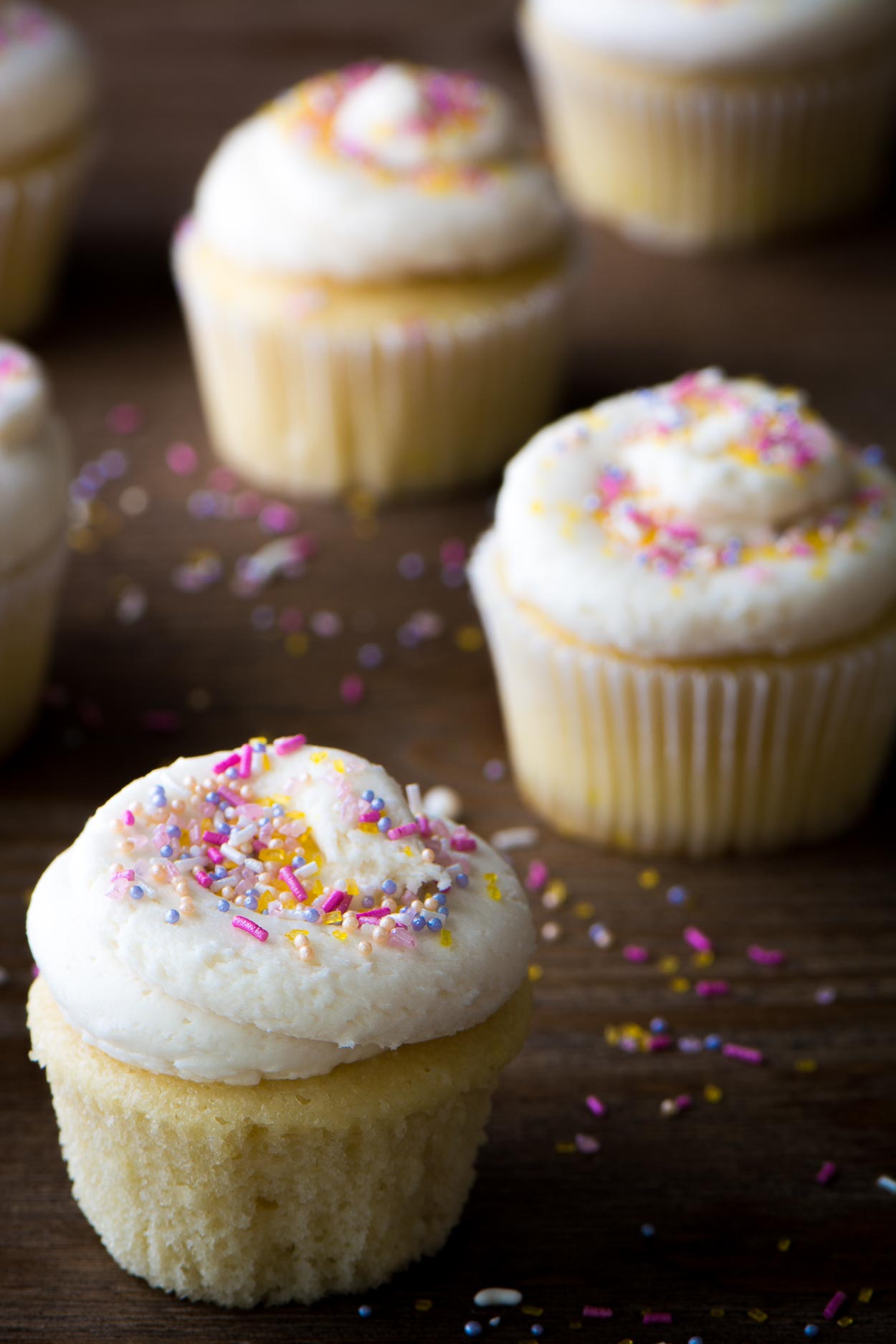 It's no secret that I love all things 'vanilla'.  I think in the food world, vanilla cupcakes with fresh buttercream icing would be my spirit animal. I have tried various vanilla cupcakes recipes over the years.  I tried to find one that was the perfect balance of flavor and lightness, and also one that will stay moist for more than one day.
When baking anything from scratch, this is to be expected within reason. There are no added preservatives to maintain its freshness beyond its natural life expectancy. However, some of the recipes I have tried were dry and stale the very next day.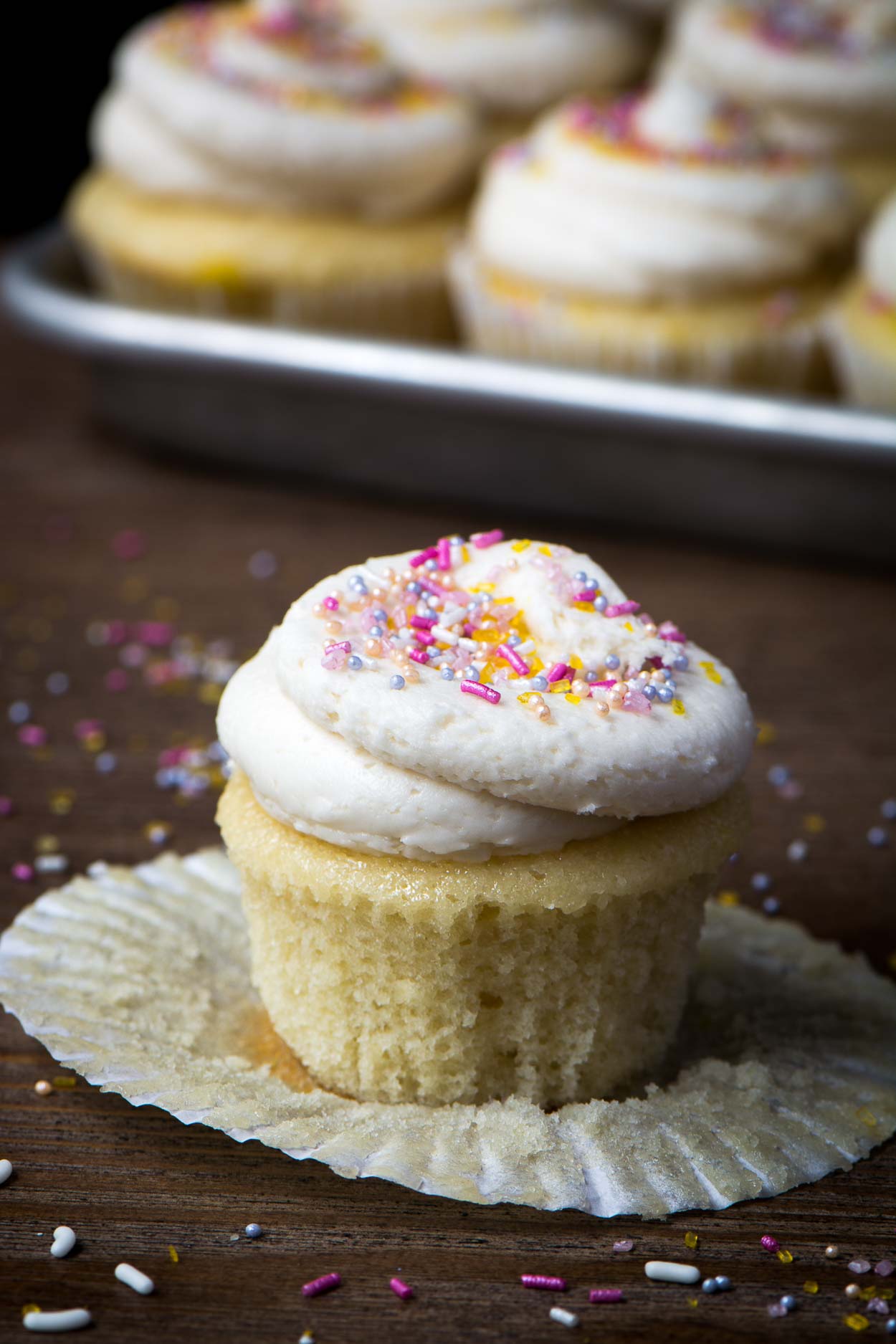 I wanted a cupcake that wouldn't take long to make, either. Life is busy, and we are constantly on-the-go. I tried this vanilla cupcakes recipe from Glorious Treats, and I have to say, it met all the criteria I was looking for. These vanilla cupcakes are so moist, light and filled with robust vanilla flavor, you can't have just one. I will warn you. They are incredibly hard to resist.
One of the many things I love about this universal and interchangeable vanilla cupcakes recipe is that is is perfect to use as a base recipe if you want to switch up the flavors for other types of cupcakes. Consider upping your cupcake game by swapping out vanilla for almond, banana walnut, pink lemonade, key lime, lemon, blueberry or even pecan pie.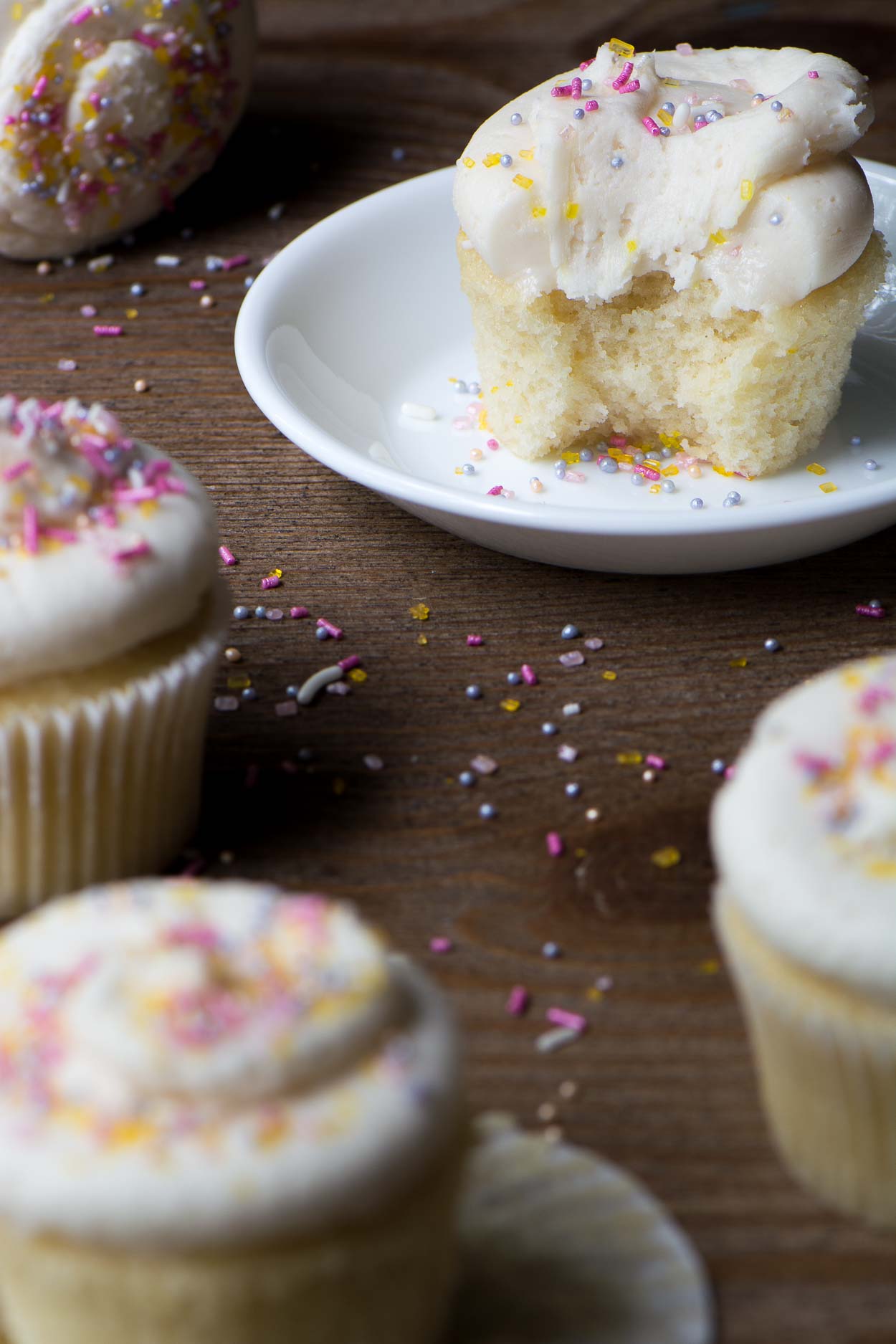 They are perfect for any occasion.  They can be made quickly for birthdays and holidays. I made some last night for a Super Bowl party for one of my neighbors. With a little bit of food coloring, these moist and flavorful vanilla cupcakes were half red and half blue, representing opposing teams.
I was told a few days later, they turned the cupcakes into a Super Bowl game. Every time a team scored, the neighbor had to eat a cupcake. Now, that is a Super Bowl party I would like to attend.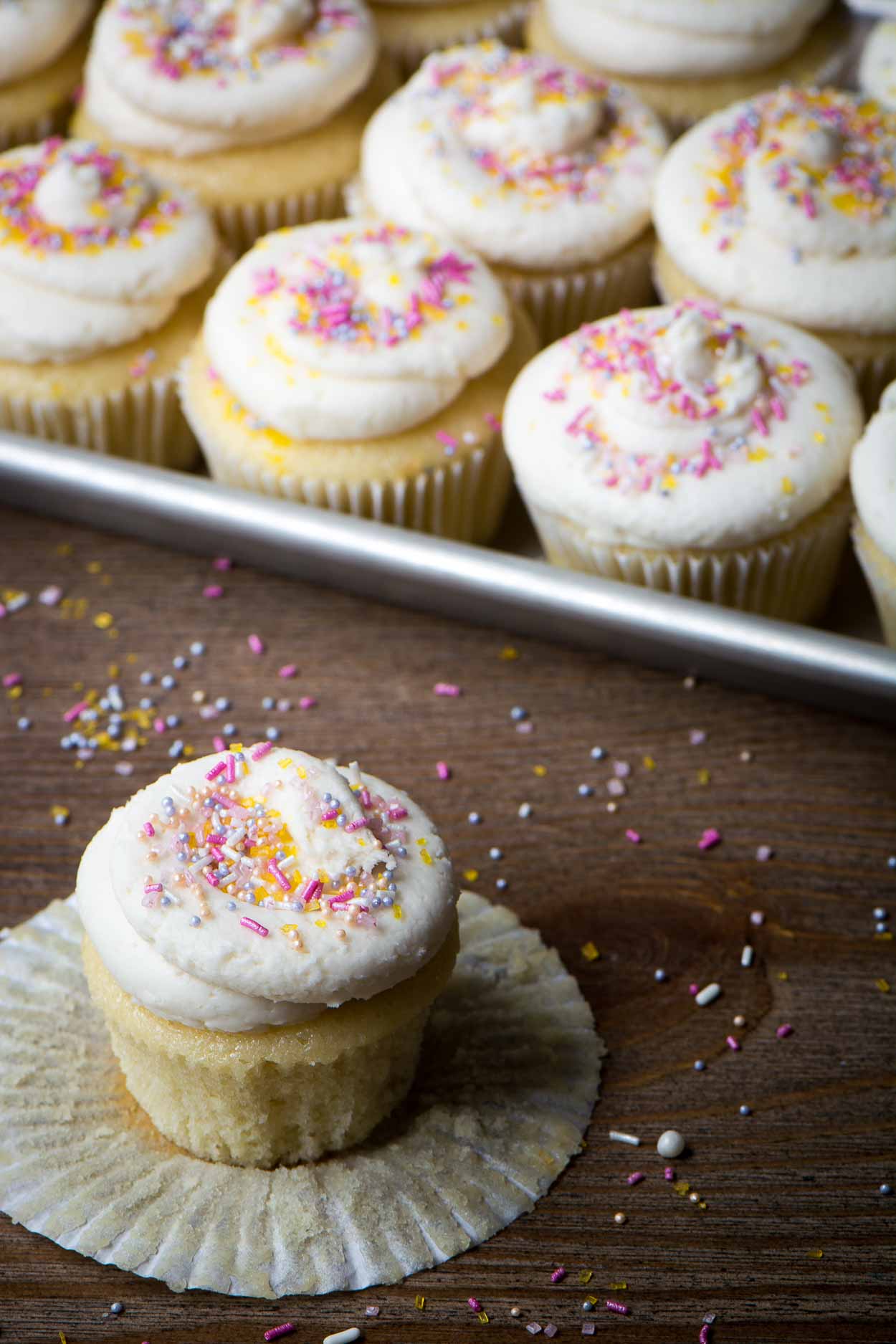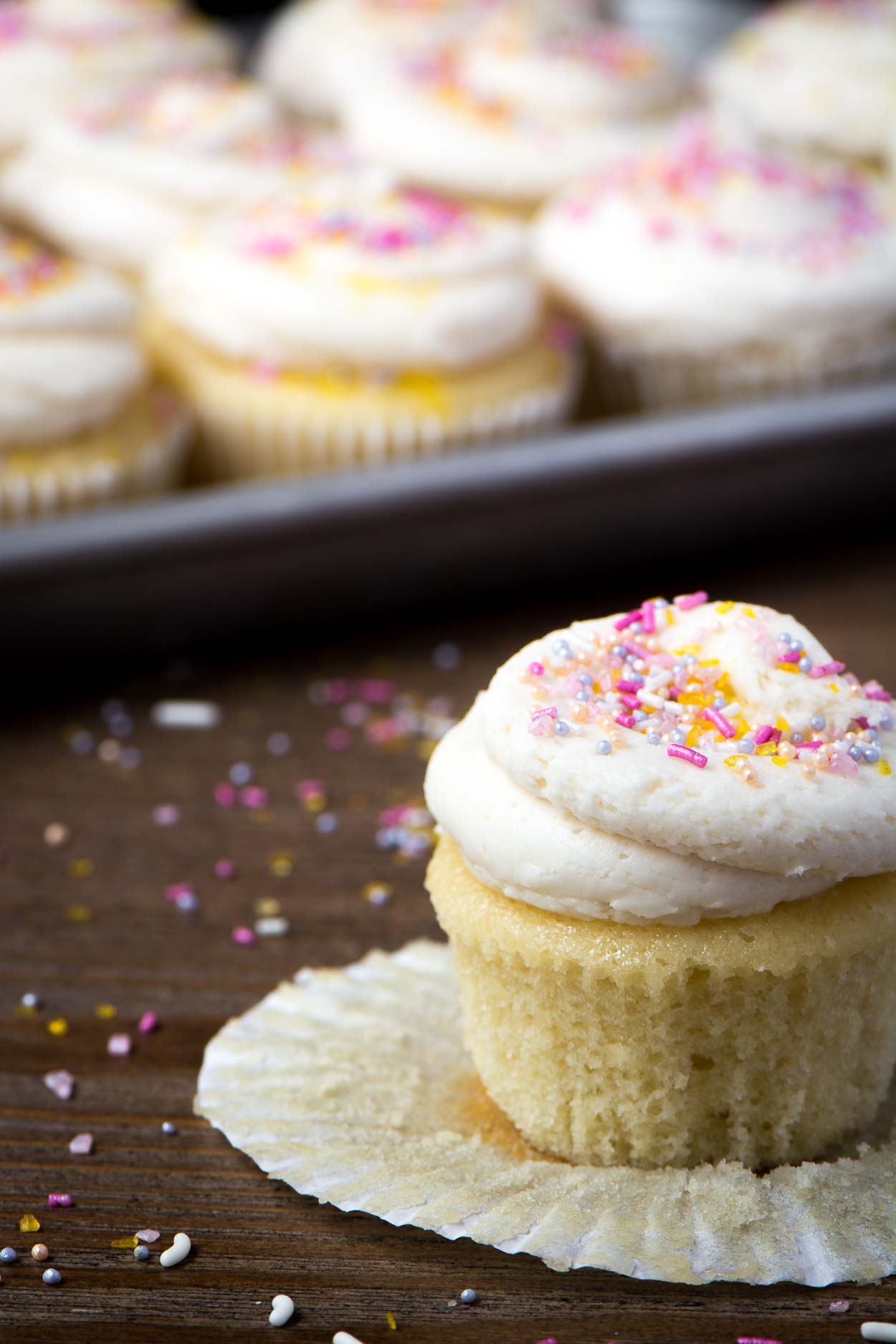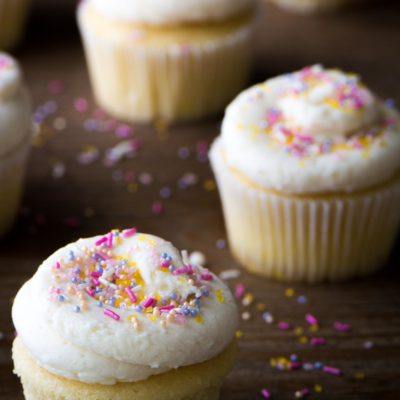 Best Vanilla Cupcakes Recipe
Ingredients:
1 1/4 cup flour
1 1/4 teaspoon baking powder
1/2 teaspoon baking soda
1/2 teaspoon salt
2 eggs
3/4 cup sugar
1 1/2 teaspoon vanilla extract
1/2 cup oil
1/2 cup buttermilk (or 1/2 cup milk and 1/2 teaspoon lemon juice. Let sit 5 min.)
Directions:
Preheat oven to 350 degrees.
In a medium bowl, mix dry ingredients. Set aside.
Using an electric mixer and medium sized bowl, beat eggs and sugar on medium speed until well blended.
Add vanilla, oil and buttermilk.
Mix in dry ingredients. Beat until combined.
Fill cupcake liners until 2/3 filled.
Bake for 12-15 minutes.
Let cool in pan for a few minutes before moving cupcakes over to cooling rack. Prepare icing and frost cupcakes as desired.
To store, place in an air tight container, or place cupcakes on a plate and cover with foil. If using a buttercream frosting, let the buttercream frosting set first before gently covering with foil.