Chicken, Steak and Shrimp Fajitas
Mmm, fajitas. Chargrilled chicken, tender steak and seasoned grilled shrimp with sautéd peppers and caramelized onions on a bed of shredded cheese, juicy red tomatoes and crisp green lettuce wrapped together in a fresh tortilla where every bite simply delivers.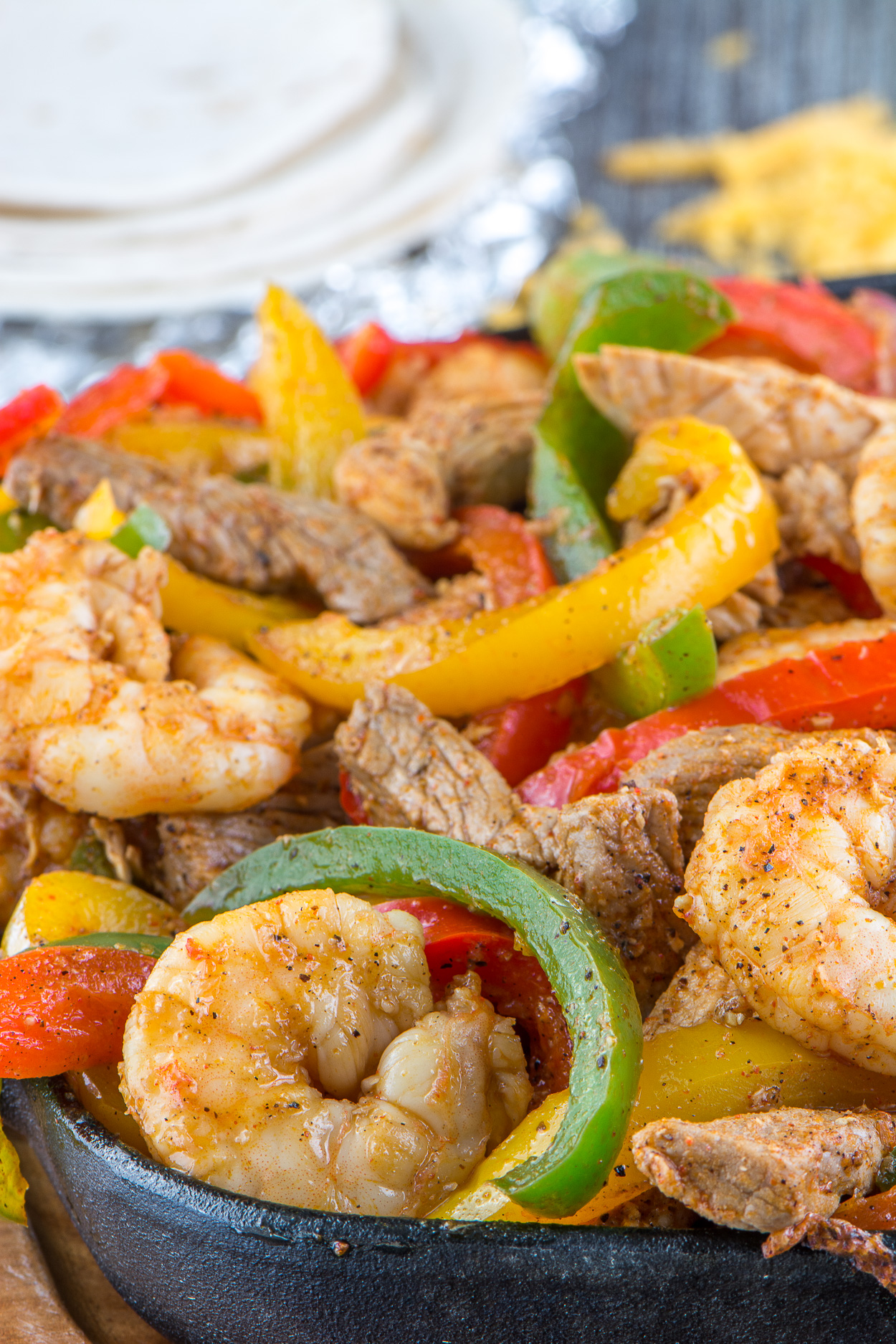 We are three weeks into summer break, and it already feels like time is quickly passing by. Every day is still busy, and some days I don't get everything done that I had put on my personal 'honey-do' list for that day. However, each day I am making time to relax, be present, enjoy my family and life in general.
Each morning after breakfast, I get the kids settled and let them play with their toys and watch a little bit of tv. I go outside, sit on the deck with a cup of coffee and talk to my mom on the phone. If I am not chatting with her, I sip on my coffee and read some news or just enjoy the sounds of nature. It sounds corny, but it really is relaxing and peaceful.
It's a zen start to my day.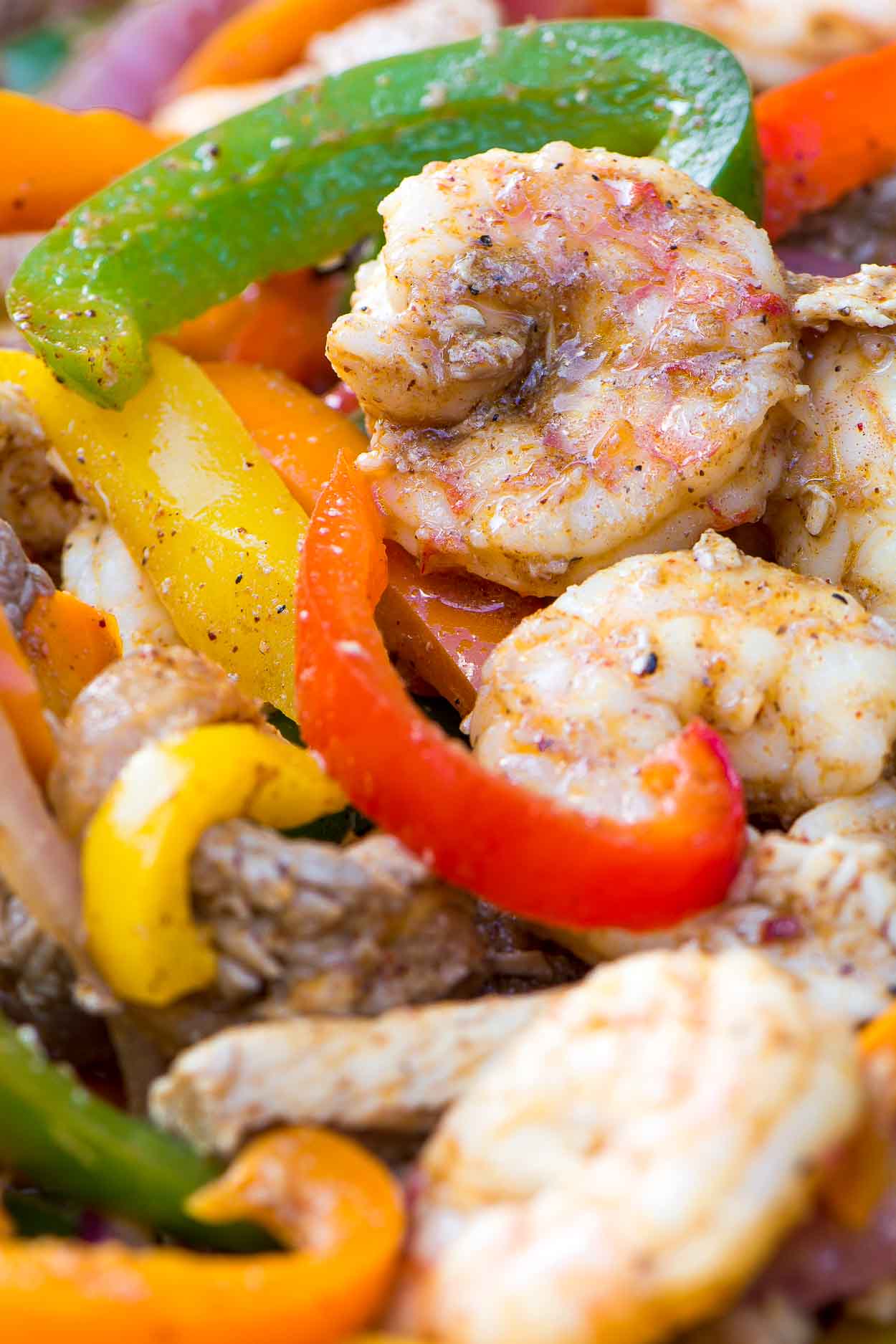 We have also been making a conscious effort to enjoy the deck more for meals. Sometimes, we eat breakfast on the deck as family, which is nice, and the kids love it. We also try to eat lunch and dinner out there if it's not too humid and the mosquitos are not trying to have us as a meal. They have been pretty ferocious this year.
Speaking of enjoying family meals on the deck, one of my new favorite meals to make is fajitas. They are a perfect meal to enjoy in our backyard on a warm summer day, just as the sun sets for the evening. Tiki torches light up the backyard as the children play. The rest of us are relaxing comfortably on the deck and sipping on strawberry daiquiris, a beer or a chilled glass of wine.
Fajitas, chips and salsa, wine and family.
That is what I call a perfect, summer night.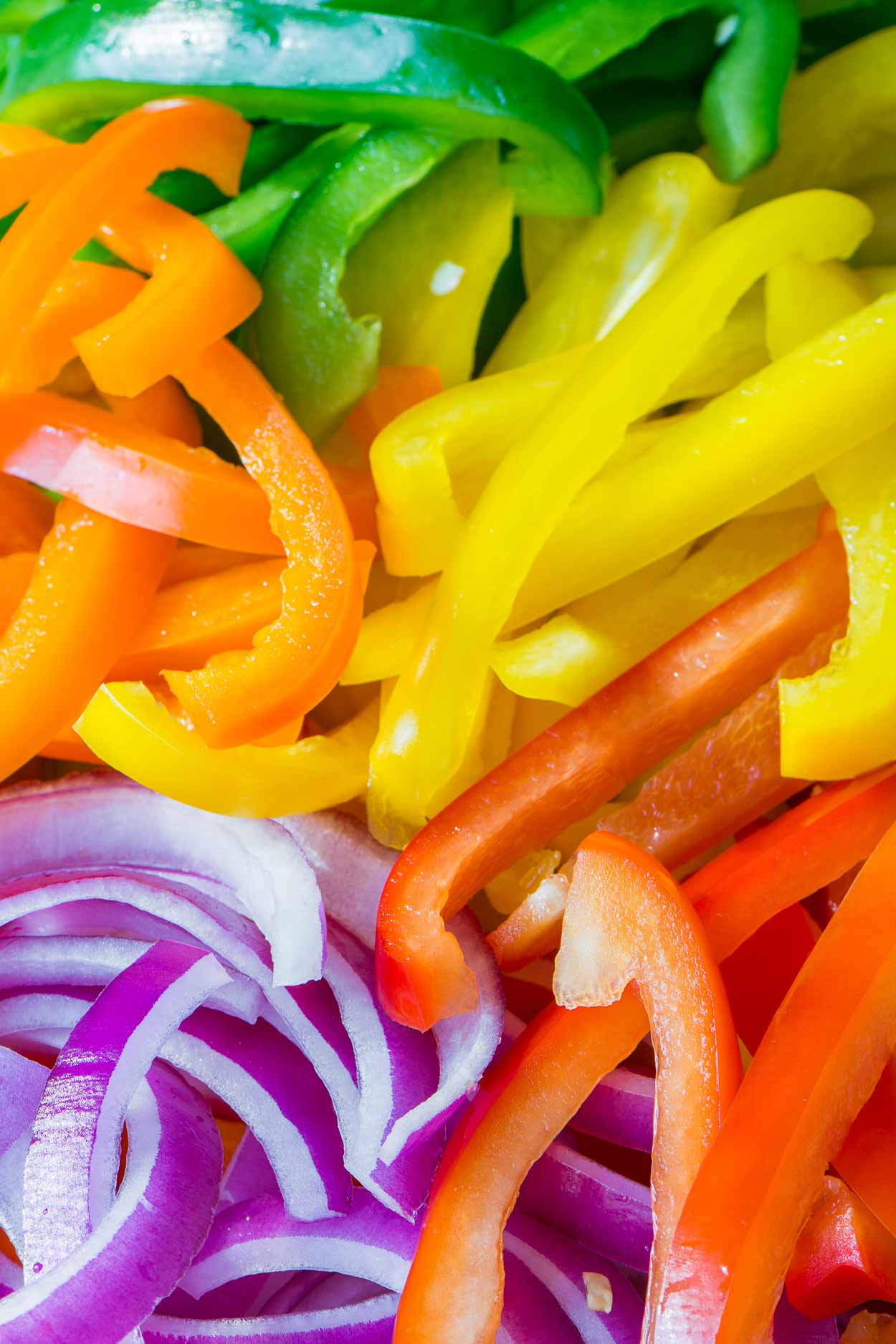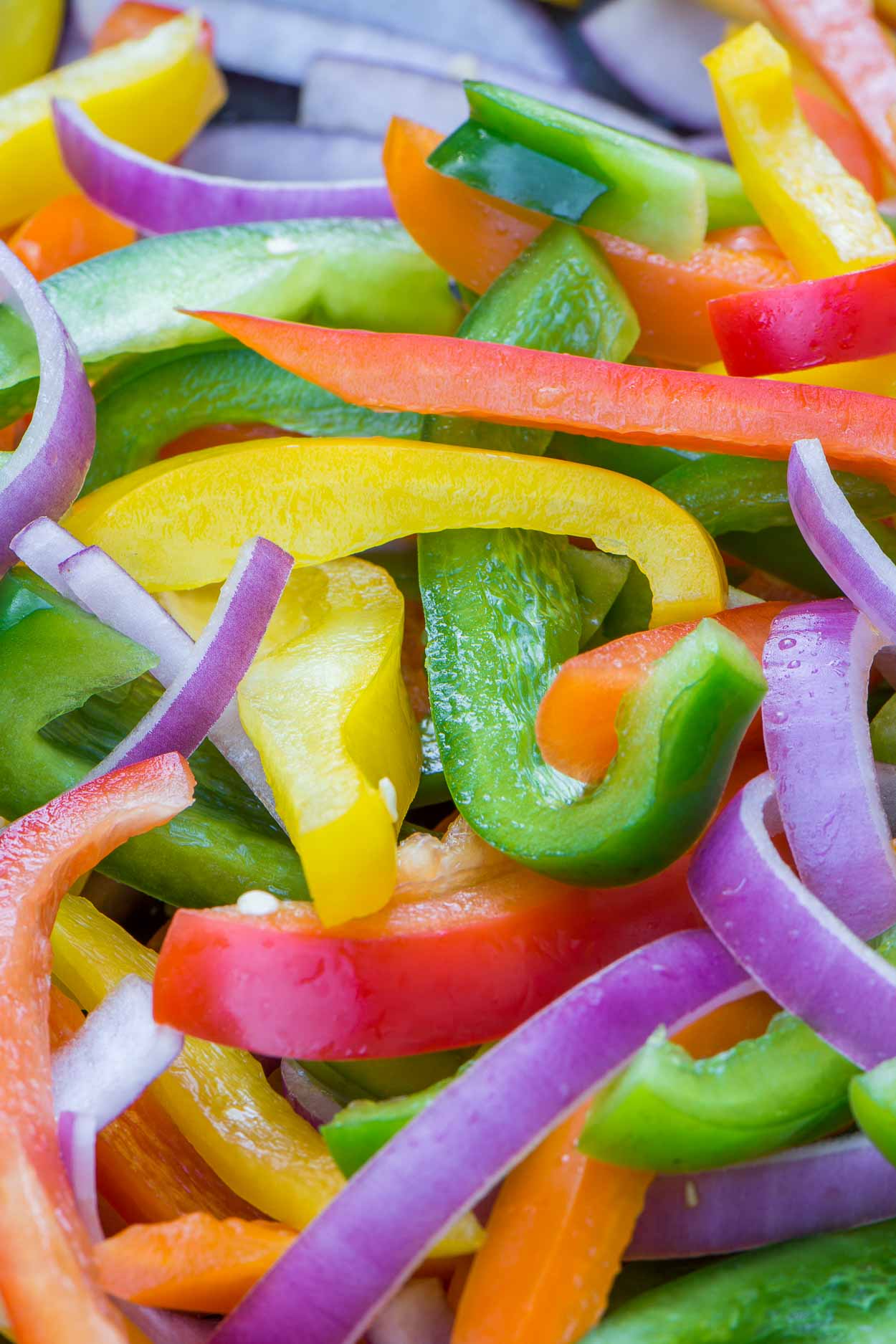 As much as I love fajitas on the deck at sunset, they are just as delicious when made in the kitchen using the stove top. This is where I usually find myself cooking after a busy school and work day.
Fajitas are basically made of three components; the pepper and onion mix, a protein such as steak, chicken and/or shrimp, and toppings of your choice. They can be made using fresh tortillas or as a fajita bowl without the tortilla. They can also be served meatless as a hearty and tasty vegetarian option.
To begin the fajitas, I start by washing a couple of fresh peppers. I typically use red and green peppers, but any will do. If you are making these for a group of people, using a variety of colored peppers adds a really nice pop of color to the meal.
After washing and slicing the peppers and onions, I sauté them by drizzling extra virgin olive oil in a large saute pan. I add the sliced peppers and onions and cook over medium-high heat for 8-10 minutes. Once the peppers are cooked enough to soften, and the onion will start to have a translucent color, I remove the pan from the heat and place it on the back burner.
The next step are the proteins. The proteins of choice (steak, chicken and/or shrimp) can be prepared a few different ways. Sometimes, we grill the meat and other times, I will slice the steak and chicken into thin strips and cook them in a large skillet on the stove top.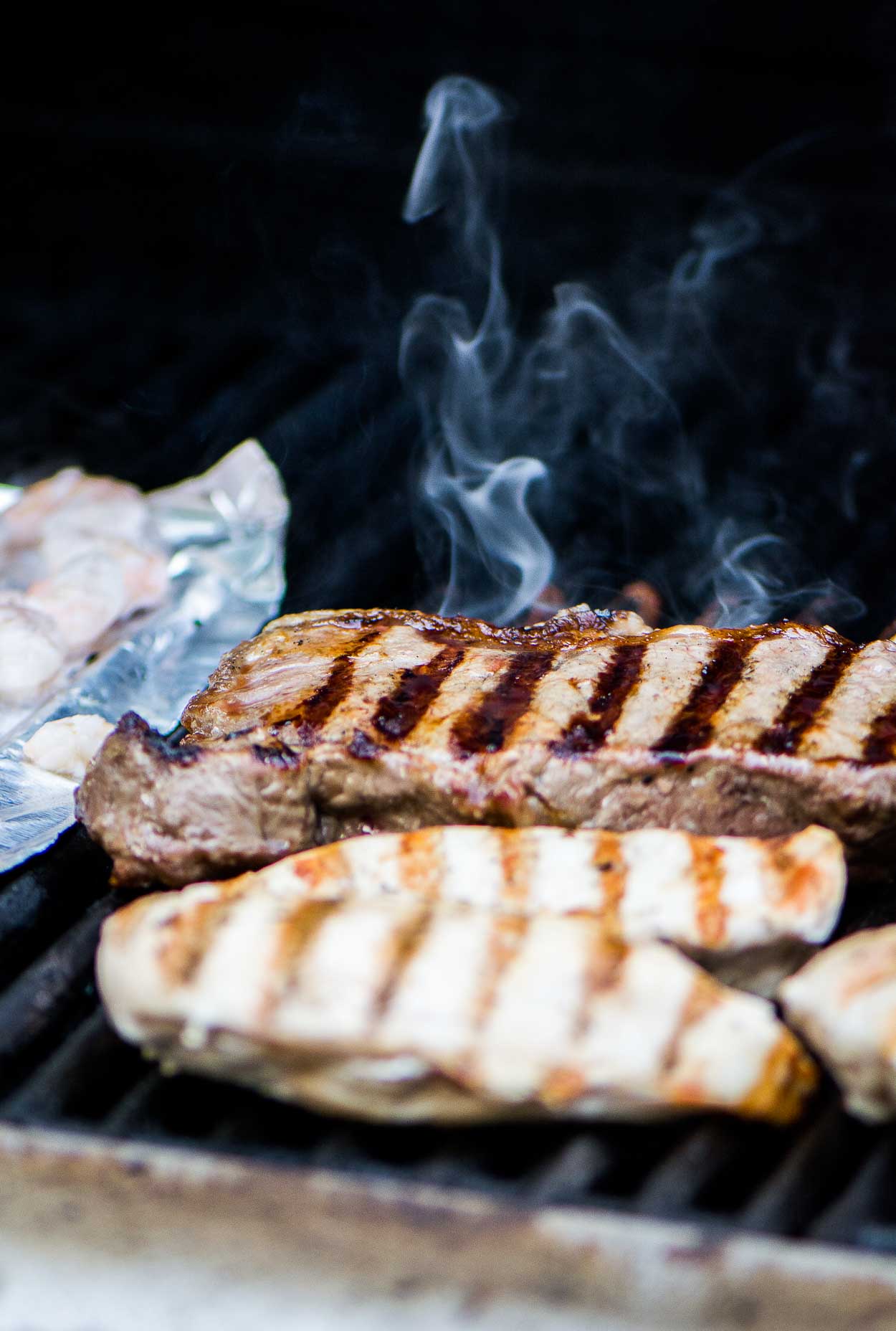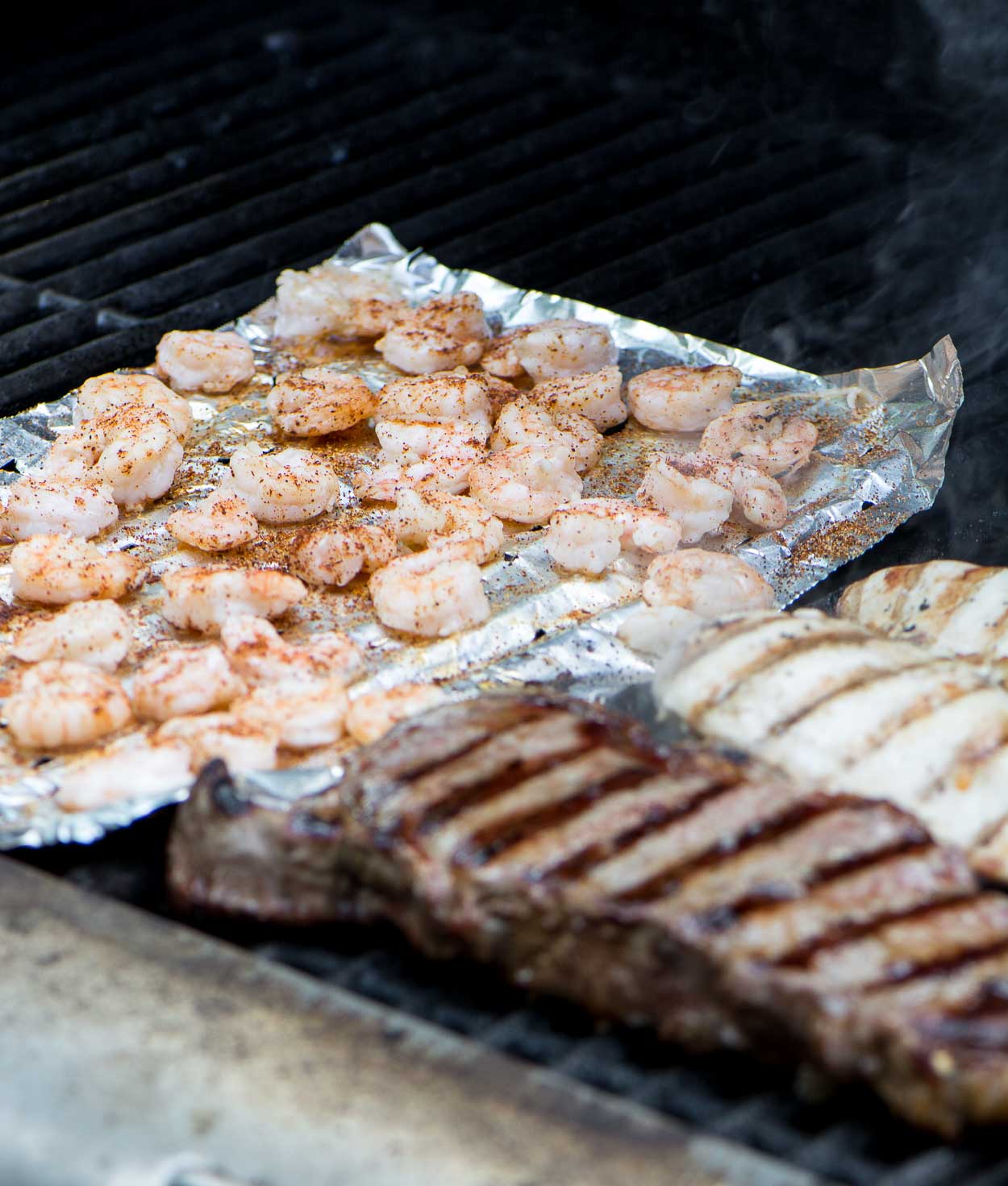 Once the protein of choice is thoroughly cooked, add the meat to the large sauté pan with the cooked peppers and onions. Bring the sauté pan back onto stovetop to a low-medium heat. Starting with 1 tablespoon, add fajitas seasoning and 3 tablespoons of water. Gently stir until the chicken, steak, shrimp and vegetables are mixed well with seasoning. Add an additional 1-2 tablespoons fajitas seasoning based on preference and taste. Cover with a lid and simmer on low heat for about 5-10 minutes, long enough for all the flavors to work into one another.
When you are ready to plate the food, use a flour tortilla, scoop fajitas mixture onto center of tortilla. Add toppings of choice. Roll up tortilla and enjoy. Or for a low carb option, prepare as a fajitas bowl and lose the tortilla.
They are truly delicious either way.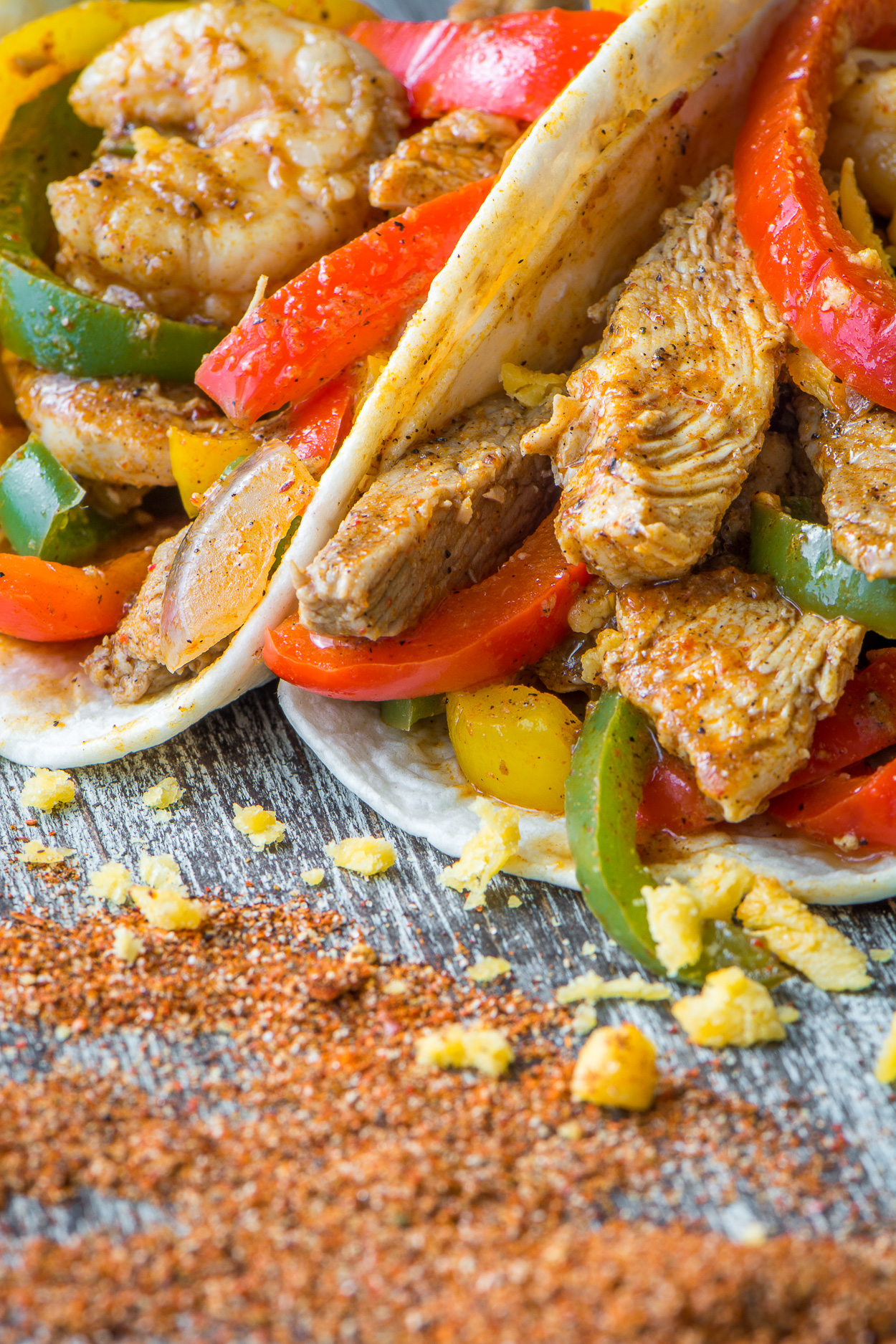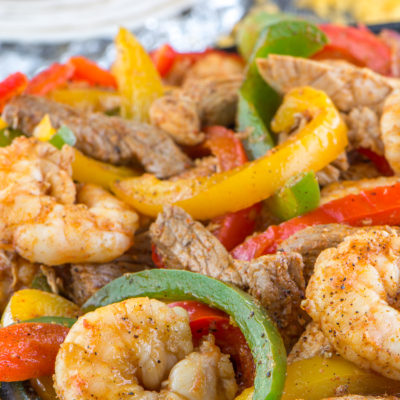 Chicken, Steak and Shrimp Fajitas
Ingredients:
1 tablespoon extra virgin olive oil
2-3 tablespoons fajitas seasoning
3 tablespoons water
1 white or yellow onion, peeled and sliced into strips
2-3 bell peppers, various colors, julienned
1 boneless skinless chicken breast, sliced into thin strips
1 strip steak, sliced into thin strips
1 pack of 26-35 shrimp, deveined, without tail
8 flour tortillas
Fajita Seasoning
2 teaspoons chili powder
1 teaspoon paprika
1 teaspoon pepper
1/2 teaspoon salt
1/2 teaspoon onion powder
1/2 teaspoon garlic salt (or powder)
1/2 teaspoon ground cumin
1/4 teaspoon cayenne
1/4 teaspoon crushed red pepper flakes
Directions:
Using a large saute pan, drizzle extra virgin olive oil into pan. Add peppers and onions. Cook over medium-high heat for 8-10 minutes. Once the peppers are cooked enough to soften, and the onion will start to have a translucent color, remove pan from heat and place to side.
In a 12″ skillet, saute' chicken and steak with a tablespoon of butter or oil. Cook on medium-high heat for 3-5 minutes on each side. Juices from chicken should run clear and have internal temperature of 165 degrees. Remove from heat. Place meat mixture into skillet with vegetables.
Using the 12″ skillet, cook shrimp in light butter for 3 minutes on each side until pink in color, firm and no longer translucent. Remove from heat. Add to the large skillet with peppers and onions, chicken and steak.
Add three tablespoons of chicken fajitas seasoning and 3 tablespoons of water. Stir gently. Cover skillet with lid. Turn heat down to low and let simmer. After 10 minutes, remove lid.
Scoop 4-5 tablespoons of fajitas mixture on top of tortilla. Add toppings of your choice such as lettuce, tomato, shredded cheese, salsa, etc.